Juliet K. Stipeche, District VIII, Vice President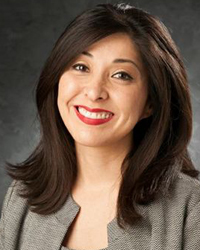 Juliet Stipeche was elected to the Board of Education in November 2010 to complete an unfinished term. She was re-elected in 2011 and currently serves as vice president.
A Houston native, Ms. Stipeche grew up in Houston's East End, where she continues to live today. She was the valedictorian of her graduating class at the High School for Law Enforcement and Criminal Justice, and went on to receive an academic scholarship to Rice University. There she earned a Bachelor of Arts degree in political science, policy studies, and religious studies, graduating magna cum laude, and was awarded the Joseph Cooper Prize for the most outstanding policy studies student in her graduating class. A certified mediator, Ms. Stipeche received her law degree from the University of Texas School of Law and is a partner at Nagorny & Stipeche, P.C.
Ms. Stipeche is active in many areas of community service. She is a past secretary and current member of the Idylwood Civic Association Board of Directors, and is also a member of the Human Rights Campaign's Diversity Committee and the Barbara Jordan Ambassador's Program for Disabled Youth. She was the captain of the American Red Cross's 2010 Heroes Campaign and has been a volunteer for the American Heart Association, American Red Cross, and Ya Es Hora program.
In the field of education, Ms. Stipeche has served as a mentor at Jefferson Davis High School and a mentor and speaker at the High School for Law Enforcement and Criminal Justice.