Juliet K. Stipeche, Assistant Secretary, District VIII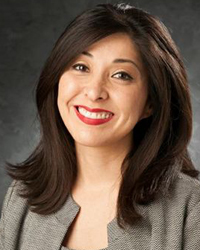 Juliet K. Stipeche was elected to the Board of Education in November 2010 to complete an unfinished term. She was re-elected in 2011 and currently serves as board president. She believes that public education is a human right, is the great social equalizer, and is the foundation for a prosperous community.
Ms. Stipeche was born and raised in Houston and is the daughter of immigrant parents from Argentina and Mexico. She grew up in the diverse East End neighborhood of Houston where she continues to reside today. She was the valedictorian of her graduating class at HISD's High School for Law Enforcement and Criminal Justice. She received an academic scholarship to Rice University, earned a Bachelor of Arts in political science, policy studies, and religious studies, graduating magna cum laude, and was awarded the Joseph Cooper Prize as the most outstanding policy studies student in her graduating class. Ms. Stipeche received her law degree from The University ofTexas School of Law and is a civil litigation attorney and a certified mediator.
In 2013, Ms. Stipeche joined Rice University as Associate Director for the Richard Tapia Center for Excellence and Equity where she serves as project manager for various programs including the XSEDE Scholars Program, iAAMCS, and Empowering Leadership Alliance – Rice. She remains of counsel at the law firm of Nagorny & Stipeche, P.C.
Ms. Stipeche is a member of various professional organizations including the National Association of Latino Elected Officials, Houston Hispanic Chamber of Commerce, National Hispanic Professional Organization, and Houston Hispanic Bar Association. Over the years, Ms. Stipeche has also mentored, tutored, and volunteered at HISD schools. She has been active in her community, serving on the IdylwoodCivic Club, volunteering for organizations such as YaEsHora, the Human Rights Campaign, the American Heart Association, Barbara Jordan Ambassadors' Program for Disabled Youth, the American Red Cross, TalentoBilingüe de Houston, and the Urban Souls Dance Company. In 2013, she was nominated and admitted as a Fellow in the Texas Bar Foundation -- an honor reserved only for the top 1/3 of 1% of Texas attorneys – based on her dedication to the administration of justice and her high professional standing among her peers. Ms. Stipeche is also a Fellow for the American Leadership Forum – Houston/Gulf Coast Chapter's Core Class XXXI.