* New School Hours: 7:45 am – 3:00 pm
Tardy Bell: 7:55 am
Breakfast Ends: 8:00 am


Uniform Information
Tops - solid color collared shirt
Bottoms - navy blue or khaki pants, shorts or skirts
Blue jeans are not allowed.
School-Wide Free Lunch Program
Stevens Elementary has been selected as a Community Eligibility Campus (CEP), therefore all students will receive free lunch, but a CEP survey form must be completed.
---
*Nuevo horario de clases: 7:45 - 3:00 P.M.
Segundo Timbre 7:55 a.m.
(Si llega después del segundo timbre, ha llegado tarde)
El desayuno concluye a las 8:00 a.m.
Información sobre los Uniformes
Camisa o Blusa: colores sólidos con cuello y mangas
Pantalones - el azul marino o kaki
Pantalones cortos o falda pantalón
El Programa de Comida Gratis
Una vez más la escuela Stevens fue seleccionada para que todos los alumnos reciban su comida gratis. La única condición que se requiere es que los padres llenen la solicitud apropiada.
---
The construction phase has begun. Dedication of the new park is planned for November 19th at 1:00p.m.
Make your donation today!
---
Stevens SPARK Park Masterplan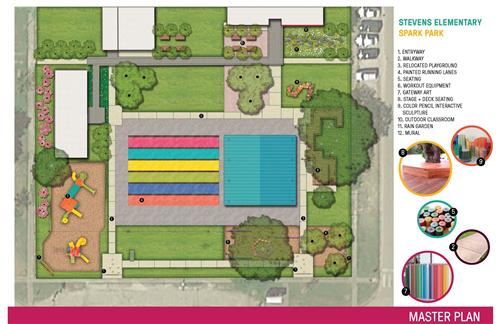 We continue to raise money for our SPARK Park. The SPARK Park committee projects needs to raise at least $100,000 to create the kind of park Stevens Elementary and the community deserve. This would include creating fitness stations, outdoor learning areas and a play area for all to enjoy. Through SPARK, HISD, and Stevens Fundraising, we are a little over halfway to our goal, having raised $55,000.
SPARK Park is a nonprofit 501(c)(3) program through the City of Houston that helps public schools improve their community grounds. With SPARK Park and its alliance with Houston ISD, we have the opportunity to make major improvements to our outdoor areas. Vibrant school grounds stimulate economic growth, increase our property values, bolster school and community pride, and help curb crime.
Donations are still being accepted at the school and through a donation box at Cane's. Construction began in mid-September. Volunteers from the Leather Apron Foundation and TOTAL will be sponsoring volunteer workdays to complete painting projects and the planting of trees and shrubs. The park is set to be dedicated on November 19th at 1:00.
You can make donations to Stevens' SPARK Park at school or by going to sparkpark.org/donate and designate your donation for Stevens.