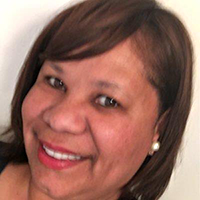 Thank you for your interest in Halpin Early Childhood Center and welcome to our website. Whether you are a member of our school community or exploring Halpin ECC for the first time, we hope that you find our website informative, enjoyable, and easy to use.
I am looking forward to partnering with you and the Halpin staff to provide quality instruction and a safe environment. I recognize the importance of a strong home-school connection. Parents are every child's first teacher, and I believe that by working together, we can ensure that your child's social, emotional, and academic needs are met.

Thank you for the opportunity to serve your families as the principal of Halpin. Please do not hesitate to reach out to me if you have any questions, concerns, or ideas you would like to share.
Constance Lathan, Principal