LOVETT HAPPENINGS!
Lovett Builds "Recipe for Success" Garden!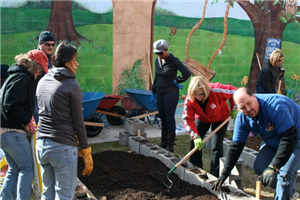 Lovett principal, Dawn Thompson, recently braved the cold weather to oversee the building of the campus vegetable garden. She was joined by Lovett's Recipe for Success sponsors, Rhonda Goldmann, Blair Austin, Rebecca Phillips, Recipe for Success sponsor representative, Luby's Chisolm Tate, and a number of parent volunteers. Lovett 2nd grade students will be planting and harvesting a variety of herbs and vegetables as part of their Science outdoor classroom lessons. A BIG thank you to these parents and Lovett faculty for their dedication to this very worthwhile project and to Luby's Cafeteria and Recipe for Success for sponsorship of the garden. For more information about this program, visit their website at
http://recipe4success.org/get-involved/school-application.html
.
Lovett Spelling Bee Winners!
(L to R) Bryan Moo
re, Izabella Decerbo, and Rosalie Gastineau
Here's the latest buzz about the HISD Spelling Bee! Our 2013-2014 Lovett School Spelling Bee was held Friday, January 10th, and this year's champion speller is Bryan Moore from Mrs. Neelley's 3rd grade class! The 2nd place speller is Izabella DeCerbo from Mrs. Jordan's 5th grade class, and the 3rd place speller is Rosalie Gastineau from Ms. Thomas's 5th grade class. Overall, thirty three students from grades 2nd-5th competed in the school wide spelling bee after weeks of practice with their sponsors, Mrs. Katherine Martin, Mrs. Lisa Feine, Mrs. Yordanos Paulos, and Mrs. Kathryn Kraitman. We are so proud of all our 2nd-5th grade students that competed and demonstrated leadership through their hardwork. The 1st place winners from all HISD schools now advance to the HISD District Spelling Bee finals to be held February 11th at the Young Men's Prep auditorium.