Reagan W. Mading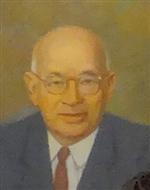 The Mading Story
Reagan Webb Mading was born in East Texas in 1887. He was a registered Pharmacist, and by the time he died in 1953, Mading owned 12 drugstores, the largest independent drugstore chain in Houston at that time. Mr. Mading deeply cared about educating young people and the civic and professional future of Houston. Upon his death, he left substantial sums of money to the Baylor College of Medicine, the University of Houston College of Pharmacy, and the Texas Institute of Rehabilitation and Research. Originally built in 1959, our present replacement building was completed in May, 2006.
Parent Opportunities

Parent Cafeteria Monitors / Parent Classroom Assistants / Parent Small Group Tutors
Membership in the P.T.A.
"Parents as Partners" / Volunteers in Public Schools (VIP) Programs
Health and Nutrition Classes
Computer Literacy Classes
Stanford 10 / STAAR: Parent Literacy Training
Sessions During the Year: (Math, Science, Language Arts)
D.A.D.S. Club