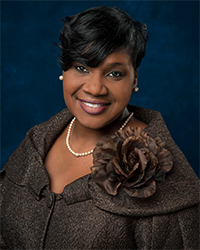 Wanda Adams was elected to the HISD Board of Education in 2013 after serving the limit of three two-year terms as Houston City Councilmember for District D. In addition to representing HISD District IX, Adams also currently serves as Board of Education President. Her commitment is to continue to incorporate strong literacy programs, strengthen parent and community engagement, and decrease the number of low-performing schools in HISD.
Ms. Adams is a native Houstonian and product of HISD, graduating as a basketball standout from Kashmere High School. She received an athletic scholarship to Texas Southern University, where she earned her bachelor of science degree in public affairs and a master's degree in public administration.
She is a professor of political science at her alma mater, where she also hosts the KTSU public-affairs radio program, "Impact Houston Live." She brings to her classroom and the radio program not only experience as an elected official but a long career in public service for organizations and agencies including the Houston Housing Authority, Harris County Mental Health and Mental Retardation Association, and the Mayor's Assistance Office. She recently served on the NCAA Final Four Sustainability Committee and the Super Bowl LI Sustainability Committee. Ms. Adams is also the first African-American woman to be appointed to serve on the Harris County Appraisal District Board of Directors.
The HISD trustee has traveled throughout the world – Africa, Europe, and South America – as an international ambassador for the City of Houston.
As a public servant, Adams has been committed to support for the homeless, veterans, the disabled, and mentally ill, and is a strong advocate for breast cancer awareness. Among the organizations for which she has volunteered are the Houston Area Women's Center, YMCA, YWCA, Keep Houston Beautiful, and Meals on Wheels in the Sunnyside community.
As a proud member of Delta Sigma Theta Sorority, Adams had the honor of being appointed to national committees, including the Social Action Commission and the National/Regional Housing Task Force. She also serves as a trustee for the Museum of Fine Arts Houston and is a member of Leadership Houston Class 30.
Ms. Adams is a Sunday school teacher and international missionary for the Fountain of Praise church, through which she participated in a mission to Cape Town, South Africa, in 2013.
Among her awards are having a community park and community door named in her honor; being featured in Houston Woman magazine's Top 50 Women in Houston; the Houston Area Association for the Education of Young Children's Elected Official of the Year Award; selection to
RollingOut.com
's Top 25 Women; and the Award of Distinction from the National Forum of Black Public Accountants. Adams also partnered with KRIV Fox 26 on a television news special, "Diversity in the Classroom," at Westbury High School. The program won a 2015 Lone Star Emmy Award.