I am "Professor" Jason Fletcher, your child's pre-k teacher and I am excited to be working with your child. I have been a part of H.I.S.D. since 2005 and I bring a wealth of experience to Frost in working in early childhood education. I am a 2010 graduate of Texas Southern University where I was instrumental in the chancing of many policies in the school of education, which is how I became known as "Professor". Much like my students, I love video games and all things about music. I also love fun and scary movies!
"Fletcher's FIREflies " are currently studying insects and how some insects even transform from one form to another, such as the caterpillar! This is a fun and exciting time for your child as they will get to have many hands-on experiences with this learning unit. One such experience will be our upcoming trip to the Houston Zoo. Watch this space for more information about this upcoming activity which is certain to be a fun and educational experience for your child.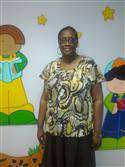 Ms. H. Odom, Pre-Kindergarten Teacher



My name is Harr
i
et Odom. I am a Pre Kindergarten Teacher at Frost Elementary. I have been teaching PK for 7 years. I have also taught Special Education for 15 years. I attended Morgan State University in Baltimore, Maryland. I earned a B.S. Degree from Texas Southern University. I earned my Teaching Certificate from the University of Houston, Main Campus.
My main focus in teaching PK is to focus on harvesting a young child's social, physical, emotional and cognitive development skills. I am dedicated in preparing each child with the necessary skills needed for Kindergarten. I plan and strive daily to provide rigorous instructional activities to engage students in a challenging class setting. Another goal of mine is to provide daily a safe and loving environment for each child to mature and grow in.
My class currently has a Dinosaur Museum Display. The children are able to incorporate reading, math, science and social studies skills while exploring facts about fossils and various types of dinosaurs. The hands on activities provided in the museum allow the children to work independently and rouse their curiosity into wanting to know more about that huge animal of long ago.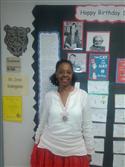 Mrs. C. Simon, Lead Kindergarten Teac
her
I am Cheryl Simon, a 16 year veteran teacher with the Houston Independent School District. I have taught Kindergarten – 2
nd
grade during my tenure with the district. I hold several certifications; early childhood education, elementary education and masters of education with a counseling endorsement. I am currently pursuing a doctoral degree in education.
I am in the writing phase of my dissertation. I am a teacher leader and presently, lead kindergarten teacher.
This is my first year on the campus of Frost Elementary.
Jubilant is the word that describes how I feel about being a part of this historical year! I am married to a wonderful guy, Steven and have grown children, Jabari and Heather.
My son and his wife have 2 children, Kamyra, 7 and Elijah is 2. One fact that is not widely known about me is, at the age of eighteen, in my first career I was a licensed nurse (L.V.N.). I worked the 3-11 shift as charge nurse with critical care children and infants in Harris County Hospital District's, Jefferson Davis Hospital!
My teaching philosophy is based on John Holt findings, that children learn best when they, not others, are deciding what they are learning, with whom they are learning, and how well they are learning. It is therefore, an integral part of good education to provide students with the opportunity for choice, group interaction, and self-evaluation. Allowing students as much input into their own education as possible, awarding them with custodianship of group standards and welfare, and holding
each one accountable for their own growth, develops within each student a sense of ownership and a need to grow that becomes personalized and internali
zed.
As teacher, it is my purpose to act as the facilitator of the overall development of each student. In a safe atmosphere of mutual respect, trust and shared experiences, I and my students learn from each other with each interaction. Above all, it is my belief that education should create within the student, an intrinsic thirst for knowledge and a desire to learn for learning's sake.
S
imon's

S
uper

S
tars
are working on reading fluency and are successfully reading our selected literature. I would like to see more parents come visit our classroom and be a part of the learning milieu.

Mrs. K. LeRoy, Kindergarten Teacher
Welcome to the LION's DEN!! Home of LeRoy's Lions!
My name is Kristy Waddell-LeRoy and I have been a foundation layer for 8 years now. I call myself a foundation layer because that's exactly what I do. I lay the foundation for Pre-K and Kindergarten students. No, I'm not building itty bitty homes for children, but I am laying a foundation of learning that children will use for the remainder of their educational journey and beyond.
I am a graduate of the University of Houston, GoooooooCOOGS!, and have been married for 7 years. I love children and I am the mother girl/boy twins, Kristyn and Carrington! They are 6 years old and the loves of my life! I love to sepnd time with my family and friends. I also enjoy singing, traveling, making jewelry, reading, pets and technology!
As an Early Childhood Educator I feel that it is vital to meet the whole child where they are, teach accordingly and expect great increase. I am also a proponent for making learning meaningful and relatable to the children. When I teach I always build upon prior knowledge which allows opportunities for children to make meaning out of the learning environment. When this happens he/she is more likely to grasp the concept and excel at the skill being taught. I also believe that character education is important to the success of the child. My classroom is a nurturing environment where everyone is taught to treat others with dignity and respect.

Look at What We're Learning!
Language Arts
-Distinguish orally presented rhyming pairs of words
Math
-1-to-1 correspondence to describe sizes of sets
Science
-Determine basic needs of living organisms
Social Studeis
-identify physical characteristics of places