---
Jack Yates Millionaire Summer Readers
On September 28,
Jack
Yates
High School
recognized ten Millionaire Summer Readers.
The ten students were treated to a luncheon where they received incentive bags filled with four YA paperbacks, Millionaire window decals, book skins, daily reading organizers, ear buds, and coupons and gift certificates to Fiesta
Texas
and Jack-In-the-Box.
Entertainment was provided by boy band and Yates students Big Rush. The menu consisted of fried chicken, fries, rolls, and
frappe.
Students are also invited to a special treat on October 12. They will have a free dress day and lunch with Principal Marla McNeal-Sheppard, which will be sponsored by the library and the PTO. During this luncheon, the students will include a special presentation as a kick-off for National Teen Read Week (Oct. 14-19).
Yates HS is proud of the following readers:
Jasmine Blakley Kailyn Nunnery
Marquel Breeding Savannah Sargent
Juan Castillo Janiel Thomas
Deondra Evans Joneil Thomas
Cortney Linsey Arielle Watson
We appreciate the following staff member volunteers:
Ms. Baines- decorating
Mr. Carrington-Photography
Ms. Clary- Providing student schedules and compiling incentive bags
Mr. Davis- Public address system announcement
Mr. Johnson- donation of incentives
Ms. Land & Ms. Raney- providing student schedules
Principal McNeal-Sheppard- Support and hospitality
Ms. Vines- patience & food delivery
Velda Hunter
Librarian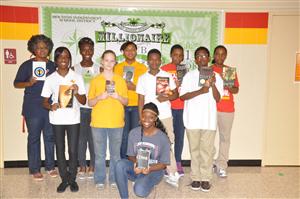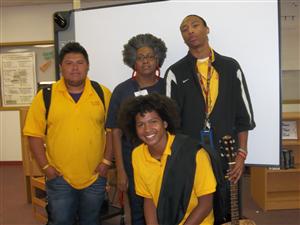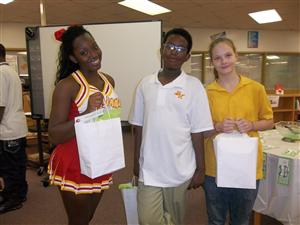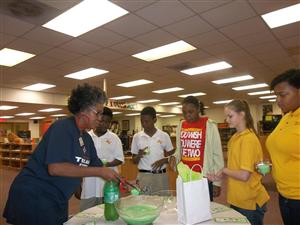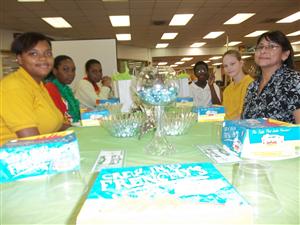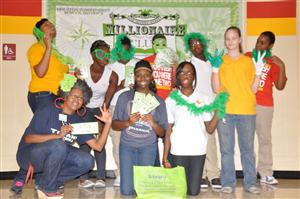 ---