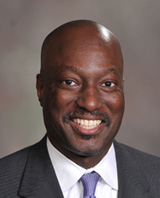 Kenneth "Ken" Huewitt has more than 20 years of experience in the audit and finance industries. He has been a member of the HISD family since December of 2001, when he became the district's controller. Before coming to HISD, he also served as an auditor for the U.S. Department of Housing and Urban Development's Office of Inspector General, a senior audit specialist for the Federal Deposit Insurance Corporation (FDIC), a senior associate for Coopers & Lybrand, and a regional director of finance for The ServiceMaster Corporation.
As HISD's deputy superintendent/chief financial officer, Ken Huewitt is responsible for all financial operations of the district. He provides oversight for all financial services for the Controller's Office and the departments of Budget and Financial Planning, Benefits and Risk Management, Medicaid Finance, Real Estate, Materials Management and Warehousing, Technology and Information Systems, and School Information Systems, and Enterprise Resource Planning Systems, as well as the School Business Manager Training Program.
Huewitt is a Certified Public Accountant, a Certified Internal Auditor, a Certified Government Financial Manager, and a Certified Financial Services Auditor with a bachelor's degree in accounting from Texas State University.
Huewitt also belongs to several professional organizations, including: the American Institute of Certified Public Accountants, Texas Society of Certified Public Accountants, and Institute of Internal Auditors. He is a member of Omega Psi Phi Fraternity, Inc. and he serves on the Board of Directors for Texas State University's Alumni Association, Texas State University's T-Association, and Texas State University's Development Foundation.
Contact Information:
Chief Financial Officer Ken Huewitt
Houston Independent School District
4400 West 18th Street, Houston, TX 77092-8501
Phone: 713-556-6600