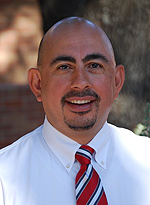 As a chief school officer at the secondary level, Michael Cardona will oversee a team of school improvement officers and help to lead a comprehensive districtwide accountability and reorganization plan for supporting school improvement efforts.
Cardona received a bachelor's degree in political science at Texas A&M University and a master's in educational administration from Texas A&M University in Kingsville.
Prior to joining HISD, Cardona served as the principal of Lee High School and Driscoll Middle School in the North East Independent School District (NEISD) in Central Texas. Before that, he held the positions of Special Education teacher and assistant principal in NEISD and the San Antonio Independent School District.
Contact Information:
Middle Schools Office
Houston Independent School District
4400 West 18th Street, Houston, TX 77092-8501
Phone: 713-556-7102; Parent Community Assistance: 713-556-7121
E-mail: mcardon2@houstonisd.org