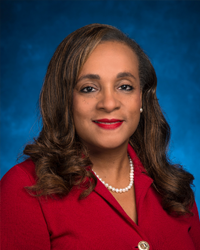 Rhonda Skillern-Jones was first elected to the Board of Education in 2011, and is currently serving her second consecutive term. She has held several leadership positions on the board, including secretary, first vice president, and president. She also represents HISD on the Texas Association of School Boards (TASB) Board of Directors, and is a member of the Steering Committee for the National School Boards Association's Council of Urban Boards of Education (CUBE).
Skillern-Jones, a wife and mother of five children, is a native Houstonian. She earned both a bachelor's degree in business administration and a master's degree in clinical sociology from Texas Southern University.
In recognition of her community and district efforts to enhance the lives of Houston children and citizens, she has received numerous achievement awards and honors, and holds membership in several civic and community organizations, including Delta Sigma Theta Sorority Incorporated.
Skillern-Jones has a strong faith in God and cites her parents as her heroes and role models. She served HISD in a volunteer capacity for 20 years before joining the school board. She has a passion for education and children, and believes that all children deserve an equitable and quality education for a fair start in achieving their life goals.