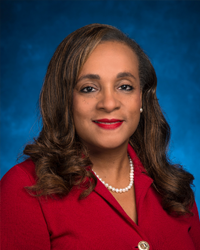 Rhonda Skillern-Jones is a wife and mother of five children: three girls and two boys, including twins. She is a native Houstonian who has earned both a bachelor's degree in business administration and a master's degree in clinical sociology from Texas Southern University. As a volunteer social worker at the Mount Ararat Baptist Church, Skillern-Jones assists families with seniors and youth to overcome economic obstacles to their wellbeing. She and her family enjoy their 13-year membership at the church. Skillern-Jones has a strong faith in God and cites her parents as her heroes and role models. She served HISD in a volunteer capacity for 25 years before joining the school board. She has a passion for education and children, and believes that all children deserve an equitable and quality education for a fair start in achieving their maximum potential.

Ms. Skillern-Jones was first elected to the HISD Board of Education in 2011, and is currently serving her second consecutive term. She has held several leadership positions on the board, including assistant secretary, secretary, first vice president, and president. She also represents HISD on the Texas Association of School Boards (TASB) Board of Directors, and is Vice Chair of the Steering Committee for the National School Boards Association's Council of Urban Boards of Education (CUBE). She also sits on the National Black Caucus of School Boards. Her other memberships include Delta Sigma Theta, Top Ladies of Distinction, and NAACP.

In recognition of her community and district efforts to enhance the lives of Houston children and citizens, she has received numerous achievement awards and honors. Among these are Top 40 Professional Women of the Year, School Board Member of the Year, Community Partner of the Year, Law Enforcement Children's Champion, Outstanding Advocate Award, TSCC Community Service Honoree, Top 10 Women to Watch, PTA Partner of the Year, and PTO President's Award.

While she has enjoyed being a stay-at-home mother for 25 years, Ms. Skillern-Jones has had interval employment as a state social worker, teacher, and census director, and currently works for Harris County Precinct One as a community engagement director.