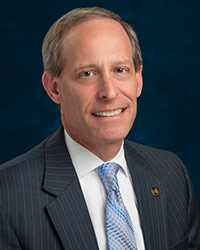 Greg Meyers was elected to the Board of Education in 2004 and reelected to subsequent consecutive terms. He served as board president in 2010. In his first year of service, he was appointed to chair the Board Monitoring Committee, which developed an expanded system for district accountability that was adopted as policy in August 2005.
Meyers is active in many areas of community service. He has been the honorary chairman of the Boy Scouts of America Scout Fair, chairman of the board of directors of the Houston West Chamber of Commerce, and chairman of the Governmental Affairs Committee as well as a board member of the Joint City/County Commission on Children. He received the HISD Apple Pin Award for extraordinary service to schools, and served on his neighborhood association board and as a Cub Scout den leader. Today, he serves as a board member for the University of St. Thomas School of Education and as a delegate for the Texas Association of School Boards. He is also active in his son's Boy Scout Troop.
Meyers earned a bachelor of business administration degree from Texas A&M University, with a double major in management and marketing, and a master of business administration degree from St. Mary's University, with an emphasis in finance. In 1999, after 12 years in the dental-products industry, Meyers founded his own company. Currently Meyers is executive director of Citizen Schools-Texas and previously served on the leadership team at Cristo Rey Jesuit College Preparatory School of Houston.

The son of an Air Force veteran, Meyers grew up in several U.S. cities, as well as in Okinawa, Japan. A Houstonian since the age of 15, he has developed a tremendous pride in and an understanding of the diversity and people that make Houston great.