Lawrence Marshall, District IX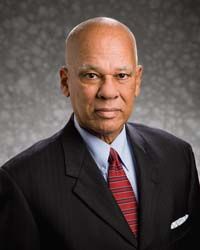 Larry Marshall, a former HISD educator, was first elected to the Board of Education in 1997. He was reelected to a fourth term in 2009, and served as president in 1999 and 2009.
A native Houstonian, Mr. Marshall received both bachelor's and master's degrees from Texas Southern University and pursued advanced studies at the University of Houston and Texas A&M University. He joined HISD as a teacher in 1955 and subsequently served as a principal, area superintendent, assistant superintendent, associate superintendent, and deputy superintendent before retiring in 1991. Mr. Marshall also served as interim superintendent of the Kendleton Independent School District.
As president of M Associates of Houston, a management consulting firm, Mr. Marshall makes frequent presentations about issues in urban education. His current professional and civic affiliations include memberships on the boards of directors of the American Heritage Education Foundation, the Southeast Coalition of Civic Clubs, and the Harris County Appraisal District. He also serves as chairman of the advisory committee of the Houston Area Alliance of Black School Educators and is a member of the Brays Oaks Redevelopment Advisory Committee.
Mr. Marshall has received awards and other honors from numerous organizations, including the Council of Urban Boards of Education (the Benjamin Elijah Mays Lifetime Achievement Award in 2006), 2003 Texas Legislative Black Caucus (Outstanding Texan Award for Education), Texas Counseling Association (2002 Layperson Exemplary Service Award), South Central YMCA Century Club, Texas Southern University School of Education, Texas Alliance for Minorities in Engineering, Office of the Mayor, and Boy Scouts of America. In addition, he was a pioneer in the development of HISD Magnet programs and alternative schools that have enjoyed nationwide recognition and replication. In 2012 he was honored by the superintendent and fellow HISD Trustees as a Living Legend for his lifetime support of public schools.