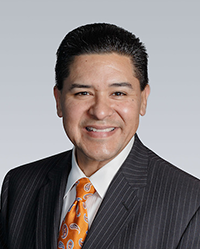 El 18 de agosto de 2016, Richard A. Carranza fue nombrado al cargo de superintendente del Distrito Escolar Independiente de Houston.
Desde el 2012, Carranza desempeñó el cargo de superintendente del Distrito Escolar Unificado de San Francisco, un sistema con una población de 58.000 estudiantes. Carranza ha sido educador desde el inicio de su carrera profesional y habla español con total soltura. Ha sido maestro bilingüe, director de escuela y administrador a nivel directivo en Las Vegas y en Tucson. La revista Education Week publicó un artículo sobre Carranza destacándolo por haber logrado el título nacional de Leader to Learn From de 2015.
En San Francisco, Carranza ha promovido varias estrategias centradas en la igualdad para impulsar el rendimiento académico de los estudiantes, que también han sido prioridades en HISD – preparar a los estudiantes para que se gradúen estando conscientes del fenómeno de la globalización, dotados de las competencias culturales necesarias, y poseedores de habilidades multilingües. Bajo el liderazgo de Carranza, San Francisco USD ha procurado reducir las suspensiones disciplinarias de los estudiantes a favor de prácticas que apuntan a ayudar a los estudiantes a permanecer en clase, lo cual HISD está poniendo en práctica.
Carranza, de 49 años de edad, fue Superintendente Adjunto de Instrucción, Innovación y Justicia Social durante tres años, previo a su nombramiento al cargo de superintendente de San Francisco USD. Antes de mudarse a San Francisco, Carranza fue Superintendente de la Región Noroeste del Distrito Escolar del Condado de Clark en Las Vegas, donde supervisó 66 escuelas con más de 66.000 estudiantes. Además, fue director de preparatoria en Tucson, Arizona y en Las Vegas, Nevada. Carranza también trabajó como vicedirector y profesor de música y estudios sociales bilingües.
Carranza es el presidente de la Mesa Directiva del Council of the Great City Schools, y portavoz dedicado a encarar los significativos retos que los distritos escolares urbanos enfrentan. También colabora en varias organizaciones y comités: Association of Latinos and Administrators Board of Directors, National Commission on Teaching and America's Future, American Association of School Administrators Executive Committee, San Francisco Symphony Board of Governors, Fine Arts Museum of San Francisco Board of Trustees, y K to College Advisory Board.
Carranza obtuvo una Licenciatura en Arte para la Educación Secundaria otorgado por la Universidad de Arizona, y una Maestría en Educación con distinción en Liderazgo Educativo concedido por la Universidad de Northern Arizona. Ha cumplido con los estudios de doctorado de esta última universidad, y actualmente se prepara para recibir un Doctorado de Educación de la Universidad de Nova Southeastern en Liderazgo Educativo.