November 11, 2004
America's seventh-largest school district has a new school-board member.
Greg Meyers was sworn in Thursday as the trustee for HISD Geographic District VI. Meyers was elected to the board on November 2 to succeed Elizabeth Ghrist, who was appointed to the post when Laurie Bricker retired from the board last summer. Meyers will serve the final year of Bricker's four-year term.
"We have some tremendous opportunities," Meyer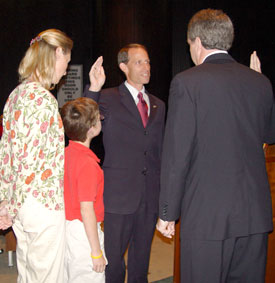 s said Thursday after he took his seat on the board. "We must make sure we elevate this district to the highest state it can be."
Meyers drew strong praise from his new colleagues on the board.
First Vice President Dianne Johnson told Meyers she has been "impressed with your conviction and your decisiveness. … We thank you for your service."
Secretary Arthur Gaines praised Meyer for "exuding energy," and trustee Harvin Moore told Meyers the work will take "a lot of your time, but I know you have it in you."
Interim Superintendent of Schools Abelardo Saavedra said HISD's board is "one of the greatest things about our school district" and said the board will continue to be a strong and cohesive unit.
A Houstonian since the age of 15, Meyers is president and owner of dental equipment company GSK Dental, Inc. He serves on the board of the Houston West Chamber of Commerce and will serve as the chairman in 2005. Meyers has been honored by HISD for his service to schools and coaches children's baseball and soccer teams. He is a former Boy Scout den leader.
Meyers earned a bachelor's degree in business administration from Texas A&M University and a master's degree in business administration from St. Mary's University. He is married to his high-school sweetheart, Sandie, and they have two children, one of whom attends HISD's Bush Elementary School.