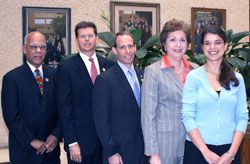 HISD's newest Board of Education member, Natasha Kamrani, took the oath of office on Wednesday, January 4, and four reelected incumbents were also sworn in.

Kamrani was elected by north central Houstonians to represent them on the HISD school board. She succeeds Karla Cisneros as the trustee from District I. A former HISD teacher and executive director for Teach for America, Kamrani is a practicing civil-litigation attorney. She earned a bachelor's degree from Miami University of Ohio and a doctorate of jurisprudence from the University of Houston Law Center.

A former English-as-a-second-language teacher at HISD's Edison Middle School, Kamrani is very active in community efforts to improve student achievement. She sits on the advisory board of Teach for America and the Houston Heights Association's education committee and was a member of the task force that helped establish HISD's Wilson Elementary Montessori School.



Kamrani was sworn in by Judge Vanessa Gilmore with her husband Chris Barbic and their two preschool-age children, Tatiana and Ramiz, by her side. "I am very proud to be here today," she said, and "I will do everything in my power to make the people in my district proud that they voted for me."

Four returning trustees were also sworn in Wednesday.

Lawrence Marshall was reelected to the District IX seat. A former HISD teacher and administrator, he has represented southwest Houstonians on the HISD board since 1997. Joined by a host of community representatives that included former trustee Jeff Shadwick and U.S. Representative Al Green, Marshall was sworn in by Judge Zinetta Burney and thanked his fellow board members for being "willing to make the sacrifice and meet the requirements to be good public officials."The three incumbents who were unopposed in their reelection bids took the oath of office administered by Harris County District Clerk Charles Bacarisse.

Harvin Moore, representing District VII, attended HISD schools and now serves as head of finance and operations for STE, Inc., a local aerospace company. His oath was witnessed by his wife Janet. He noted that Houston "is fortunate to have a Board of Education that stands out among those of other urban districts in its commitment to a common vision and in doing the very difficult things required to ensure that all children will be able to graduate prepared for successful lives."

Greg Meyers, representing District VI, is the immediate past chairman of the board of directors of the Houston West Chamber of Commerce and runs his own dental products company. His wife Sandie joined him for the swearing-in. He saluted his fellow trustees for "always thinking of the kids."

Dianne Johnson, HISD board president and representative for District V, is a former HISD counselor who has served on the board since 2001. Joined in the ceremony by her husband David, she said that "discussion of public education is a national pastime because it's a great cause, and there is no better cause than the education of the children of Houston." She also voiced her continued commitment to helping HISD "lead the way and set the bar for public education in this country."

Superintendent of Schools Abelardo Saavedra joined the trustees in welcoming HISD's newest board member and noted that the district is so successful because it has "great teachers, great principals, a great staff, and a great board."