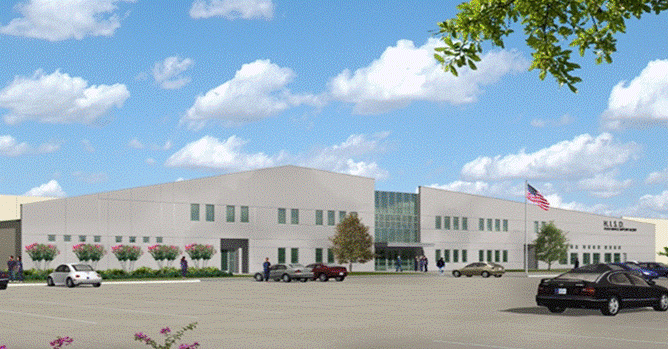 Leaders at the Houston Independent School District have a dream. They want their district to be a national leader in child nutrition and wellness among public school districts.
One way HISD is making that dream come alive is through a centralized food production facility that serves every school in the district and ultimately prepares an estimated 220,000 meals daily for students – and up to 50 million meals annually.
The Food Service Support Facility is among the largest of its kind serving a district in the United States.
Several years ago, leaders came to grips with this reality – the existing 100-year-old warehouse needed to be replaced to meet current and future needs. There were excessive maintenance costs and an outdated refrigeration system. Limited warehouse capacity forced district leaders to outsource some of their storage and delivery.
Further, multiple campus kitchens with equipment and space limitations caused consistency concerns and product line limitations.
In 2004, the HISD Board of Education authorized the new centralized food production facility. The vision:
Produce consistent, quality products
Improve food safety
Increase menu variety
Improve menu nutritional value
Make school kitchen operations easier
Reduce equipment costs
Increase commodity utilization
Support emergency relief efforts, if/when needed

Further, with the new facility, all warehouse, distribution and food production would be under one roof.
Fast forward to the present.
HISD's Food Service Support Facility currently at full-scale production and service.
"We believe the money for this centralized food production facility was well spent," said Ray Danilowicz, Senior Director of Operations. "And the results demonstrate further just how much HISD cares about our children's long-term health and well being."
The facility is located on 15 acres in northeast Houston, and includes:
An 80,000 square-foot storage and distribution center with a central receiving area, cooler and dry storage, and over 25 delivery trucks
95,000 square feet for food production with bakery, cook/chill and cold preparation capabilities
45,000 square feet for administrative, maintenance and supply chain personnel, as well as dedicated training space.
"One of the main things this facility enables us to do that we have not been able to do before is to really control the ingredients that go into the food items we prepare for the schools," Danilowicz said.
"We make recipes from scratch," said Jennifer Boesch, HISD Nutrition Services Director. "So in terms of preservatives, sodium – all of those bad things you don't want in your system – we now can eliminate them."
The centralized food production facility is contributing to an initiative begun in July 2008 by HISD to compile a five-year strategic nutrition and wellness plan for the district.
"As a key part of that strategic plan, we have a menu plan that is outpacing state and federal nutrition guidelines," said Boesch. "We want to be the national leader in child nutrition and wellness among public school districts. That's an achievable goal."