DATE:
Wednesday, October. 8, 2014 4:00-5:30 p.m.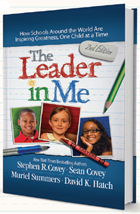 LOCATION: Longfellow Elementary (3617 Norris Dr. Houston, TX 77025)
AUTHOR: Sean Covey
Come hear from one of the authors of the new edition.


The Leader in Me has sold more than 200,000 copies and has inspired nearly 2,000 schools in 25 countries to implement its principles. It features schools that seamlessly integrate the 7 Habits and other leadership development into daily curriculum, activities, and culture. Their students learn to set and achieve meaningful goals, take responsibility for their learning, work well with others, and use their individual talents to better the school's community.
---