---
All A's All Year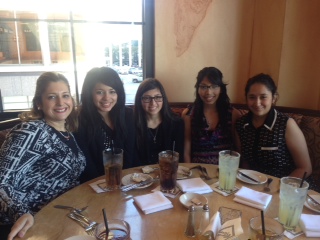 Straight A luncheon with the principal! Proud of these students who have had straight A's ALL YEAR! Hard work pays off!
---
Teach for America and One Goal at Davis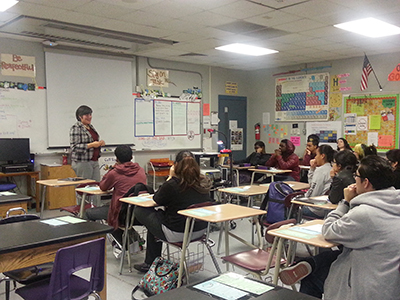 The co-CEO of Teach for America, Elisa Villanueva Beard, was a guest speaker in Ms. Garner's 4th period OneGoal college readiness class. Elisa, who attended a high school very similar to Davis in the Valley, was incredibly impressed with the students' preparedness and participation in yesterday's discussion about the path to college and beyond. She is a national education powerhouse and it is an honor that she chose Davis for her OneGoal visit. Next year, Shilpa Sarang will be leading a new cohort of 11th graders through the OneGoal program.
---
Congratulations Jennifer Cuello, Junior at Davis High School, this short film has been selected by Aurora Picture Show to be included in the first Extremely Young Film Festival taking place March first at the Museum of Fine Arts Houston.
---
2013-2014 Teacher of the Year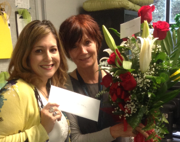 Congratulations to Diane Morrow our Jeff Davis Teacher of the Year! Ms. Morrow teaches AP English and Junior English. She also sponsors our students who participate in UIL academic events and hosts the after school Chess Club. Ms. Morrow inspires and challenges our students to be the best writers they can be. Ms Martin, Social Studies department chair says, " Ms. Morrow is the hardest working teacher in the building." Jaqueline, one of her AP students said, "She's the hardest teacher you'll ever love. She pushes us to be the best." Thank you Ms. Morrow for all that you do. Ms. Marrow said, "Teacher of the Year is about ALL teachers. It is a team effort to make our Davis students successful. No one can do it alone. I am honored to have been chose quarterback for the year but also realize I am part of a whole team."
more
Congratulations to Ms. Mary Divin, our Beginning Teacher of the Year. Ms. Divin graduated from the University of Houston. "I feel very humbled and thankful for everyone that voted for me. It's great being part of Davis and helping students prepare for their future." said Ms. Divin. Ms. Divin teaches Pre-Calculus and Algebra 2. Klarissa, one of her students says, "Ms. Divin helped me see math in a different way, I really understand what we are doing in class."
---
FAFSA Night 2014
---
TEA 2012-2013 Report Card
Davis receives the highest accountability rating from the Texas Education Agency.Full report.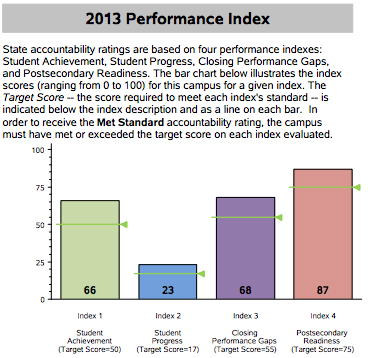 ---
2013-2014 HISD All City Concert BandThe 2013-2014 Houston ISD All-City Concert Band conducted by guest clinician Mr. Noe Marmalejo, University of Houston Jazz Studies Director. 7 of our very own Davis HS Band students made the All City Band. (only 4 pictured due to rescheduling conflicts)Jesus Felipe- Euphonium-9th Grade
Josue Canizales-Bass Clarinet-11th Grade
Aletquis Quistian-Trombone-12th Grade
Angelica Morales-French Horn-9th Grade
Andrik Borja-Trombone-9th Grade (not pictured)
Vanessa Tristan-Trumpet-12th Grade (not pictured)
Vincent Lopez- Trombone- 12th Grade (not pictured)

---
Manuel Rojas graduated from Davis in 2004. This Sunday, Manuel, 27, will participate in a commencement ceremony for UHD as one of the University's first MBA graduates – and as a "father" figure and role model for his five siblings, whom he encouraged to follow in his footsteps to earn a college degree.
Hailing from an underprivileged Hispanic family with parents who accrued a fifth-grade education in Mexico, Rojas lacked the example of a successful, collegiate mentor to show him the way. At the age of 13, Rojas took time out from school to attend his older brother's sentencing at the county jail. While his sibling, Angel, faced a 20-year sentence for a crime he committed, Rojas faced a daunting hurdle of his own – becoming a role model for his five siblings while still in middle school. More...
The goal of Title 1 is to ensure that all children, have a fair, equal, and significant opportunity to receive a high-quality education. Reach passing standards on challenging State academic achievement standards and assessments.