Ballet Folklorico
The mariachi and ballet folklorico groups participated in the Mariachi and Ballet Folklorico UIL Festival. Both groups did an amazing job representing JDHS. Ballet folklorico received a performance rating of "Excellent."
Davis PowerUp
CIA Davis web from Houston ISD on Vimeo.
HISD recognizes 99 seniors headed to nation's top-tier colleges and universities
EMERGE Class of 2015 awarded more than $20 million in scholarships, collectively HISD paid tribute to 99 graduating scholars from 24 high schools during the second annual EMERGE Senior Awards Ceremony on April 28.Through EMERGE, these scholars have earned the distinction of being accepted into colleges and universities such as the Massachusetts Institute of Technology, Harvard, Princeton, Rice, Smith, Stanford, Tufts, and Yale. As a whole, the group has been awarded more than $20 million in scholarships and financial aid, with the majority of students receiving individual financial packages totaling upwards of $40,000 per year. More...
Leland Kibbutzim Internship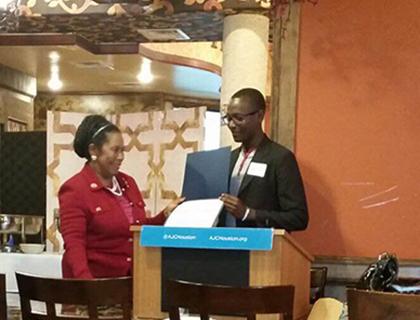 Congratulations to Davis 11th grader Genereux Nkundimana was one of ten HISD students selected to travel to Israel this summer to experience life on a kibbutz. Every summer since 1980, the Mickey Leland Kibbutzim Internship Foundation has sent high school juniors who live or go to school in the 18th Congressional District to Israel for a month. Mazel Tov Genereux.
Davis Boat Race
STAAR Tutorials
Check out STAAR Tutorials on the HUB! from davistv on Vimeo.
Davis PowerUp

Get a jump on next year by bringing your $25 dollar fee and laptop agreement form in now.
A copy of the form is found here.
Fill the form out and bring it with $25 to the attendance office.