On Saturday, January 28, 2017, six Honors Band members performed in the HISD All-City Band Concert. The All-City Band rehearsed on Friday evening and Saturday morning followed by the concert that afternoon. Our students worked other students from different middle schools and a great conductor Tye Ann Payne. We are very proud of all of our students that performed. Pictured are: Andrew Brugner - Tuba, Andrew Caver - Trumpet, Ricky Kirk - Trumpet, Rafael Fernandez-Watson - Percussion, Crystal Rico - Alto Saxophone, and Nadia Caldwell - Clarinet.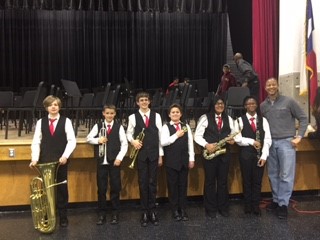 FRANK BLACK BAND RESOURCES
CLICK HERE

FOR BEGINNING BAND COURSE OBJECTIVES AND GRADING
CLICK HERE
FOR CONCERT BAND COURSE OBJECTIVES AND GRADING
CLICK HERE

FOR HONORS BAND COURSE OBJECTIVES AND GRADING
CLICK HERE
FOR 1ST YEAR BAND STUDENT EVALUATION FORM
MS. COLEMAN, TEACHING ASSISTANT
:
TOMASHA.COLEMAN@HOUSTONISD.ORG
A MESSAGE FROM OUR NEW FBMS BAND DIRECTOR
My name is Richard Smith and I going to be your new Band Director. Along with me, is Ms. Laura Martinez who will be the Associate Band Director. We look forward to an exciting and fun year. We look forward to meeting and working with all parents and students of the Frank Black Middle School Band Program. There will be many opportunities for all parents and students to be involved in this year.
To have a successful musical experience, some students will need to transition to other instruments that are lacking in each ensemble to achieve balance in the instrumentation ratio. For example, we cannot have 8 alto saxophones to 1 flute, because the alto saxophonists would have to play super soft in order to hear the melody instrument (flute). Simply, we want EVERYONE to be heard, thus creating a positive experience for the student musicians and audience participants. Auditions for all woodwinds will be held July 29 from 8am – 12pm. All brass auditions will be July 30 8am – 12pm. Make-up audition will be July 31 8am – 10am. All auditions will be held in the Band Room. The following audition requirements will be used: chromatic scale full range of instrument at 100 bpm (metronome) and a short sight-reading excerpt.
Instrument Drive for all First Year students or parents that are interested in renting/purchasing of instruments will be held July 28 in the Band Room from 9am – 2pm. During the instrument Drive for First year Band students, it is vital that you attend, because instruments and classes will be selected.
PERFORMANCE DRESS ATTIRE
BEGINNING BAND
BAND T-SHIRT
DARK BLUE JEANS
BLACK SOCKS
BLACK BELT
BLACK SHOES (NO SNEAKERS)
HONORS BAND / CONCERT BAND
OUT-DOOR PERFORMANCE
BAND T-SHIRT
DARK BLUE JEANS
BLACK SOCKS
BLACK BELT
BLACK SNEAKERS
IN-DOOR PERFORMANCE
WHITE COLLARD BUTTON DOWN SHIRT WITH BUTTON AT COLLAR
BLACK BELT
BLACK SLACKS (NO LEGGINGS, NO JEANS OF ANY STYLE)
LONG BLACK SOCKS (NO ANKLE SOCKS)
BLACK HOSIERY (GIRLS)
BLACK DRESS SHOES (NO SNEAKERS OF ANY KIND, NO SPERRY/ BOAT SHOES)
BLACK VEST (PROVIDED BY BAND)
TIE (PROVIDED BY BAND)
JAZZ ENSEMBLE