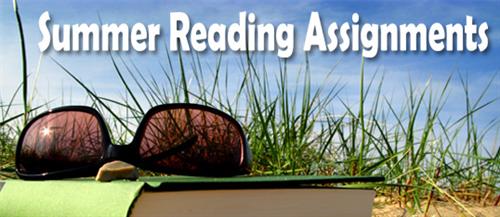 Summer Assignments are finalized and published on this page each year by June 15.
IMPORTANT INFORMATION
As of June 15, 2017, there have been important adjustments to the English 1 and English 4 Summer assignments.
Students who were enrolled in English 3 for the 2016-17 school year may have been issued a Summer Assignment for

English 4

(2017-18) by Mr. Roy. This assignment has been modified as of June 15. The correct assignment is located below, under English 4 (non-IB Diploma Program).
The previously-posted Art History summer assignment has been modified. Please see below for the correct assignment.
The summer assignment for U.S. History (Pre-IB Diploma Program) is now available below.
---
Why Summer Assignments?
Summer assignments prepare students for the next year's curriculum. Keeping minds sharp and in focus over the summer break is important for success in the new school year.

Who?

Assignments are for specific subjects and students, as noted below.
When are they due?
Due dates for the assignments are indicated for each subject with most being due the first week of the new school year.
Questions?
For questions, please contact the Advanced Academics Office at (713) 522-5960.

---
Please see detailed 2017 summer assignments below: