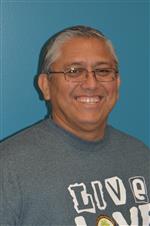 Armando Lujan
Welcome to Berry Elementary, Magnet school for Environmental Science. My name is Armando Lujan and I am excited to serve this community as your new principal.


I was born and raised in Corpus Christi, Texas. My wife and I have been married for 36 years. We have two adult children. My son is a graphic artist for a custom car design company and my daughter serves as a Curriculum Specialist for the Corpus Christi Independent School District. My wife and I are also proud grandparents of 5 grandsons and 1 granddaughter.


I have served as an administrator in the Houston Independent School District for the past 11 years. I spent my first 4 years as Dean of Students at Lamar High School. I served the next 3 years as Principal at Roosevelt Elementary and the last 4 years as Principal at Edison Middle School. Previously, I served the Corpus Christi Independent School District as a Teacher and Administrator for 8 years.
I completed my college education at Texas A&M-Corpus Christi. I received a Bachelor of Science Degree in Criminal Justice and a Master of Science Degree in Educational Administration.

When I am not at Berry I enjoy spending my time with my wife. I also love spending time with my two children and 6 grandchildren. My wife and I enjoy exploring small Texas towns and traveling.


Our goal is to provide the very best for our scholars and to continue to build positive relationships with parents and the community. I look forward to being your Servant Leader and to a successful school year.
Sincerely,
Armando Lujan