HISD Program for the Deaf and Hard of Hearing at T.H. Rogers serves students of all ethnic and socio-economic backgrounds from age 3 through middle school. The program's philosophy is Total Communication which encourages teachers to use an array of materials and resources to help the students reach their maximum potential. A combination of communication methods including, but not limited to, speech, listening, lip reading, Conceptually Accurate Signed English (CASE), ASL, and Visual Phonics are employed. T.H. Rogers is proud of the dedicated and specially trained personnel who are knowledgeable about the hearing impaired and services available to the deaf students. Students in the Program for the Deaf and Hard of Hearing are included with their hearing peers at every opportunity appropriate to best meet their needs: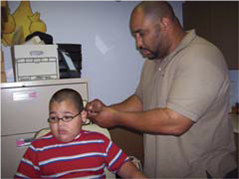 Approximately 75 students in grades Pre-K through 5th
Instruction in Reading, Language Arts, Mathematics, Science and Social Studies
Core Enrichment classes: Music, Art, Physical Education, Computer Lab, Science Lab, Performing Arts, and Library
Field Trips: Oil Ranch, Interactive Theater, Opera To Go, Houston Zoo, Children's Museum, Museum of Science, Art Museum, George Ranch
Special Events and Activities: Gardening, Natural Habitat, Snow Day with a signing Santa, Halloween Costume Day and Trick or Treating, Field Day , and Rock, Walk and Roll, Glassell School Art teacher, Caring Critters, Fireman Bingham, Special Olympics
Deaf Awareness Week is celebrated with a week of activities designed to increase the knowledge of deafness for the total school body. It culminates in performances by the deaf students.
Each classroom in the Program for the Deaf and Hard of Hearing at T.H. Rogers is equipped with the latest technological equipment including FM systems, televisions, DVDs, computers and Interactive White Boards.
Certified deaf and hearing teachers of the deaf, Audiologists, Speech Therapists, Social Workers, Evaluation Specialists, and Teacher Assistants.