John F. Kennedy Elementary is located in the North Region of the Houston Independent School District in Houston, Texas. Kennedy is approximately four miles from Downtown Houston and sits in the middle of Independence Heights, which was the first Black City in Texas.
John F. Kennedy Elementary is one of seven elementary schools that make up the Booker T. Washington High School Feeder Pattern. Like the other six elementary schools in the feeder pattern, Kennedy is a School-Wide Title I school. Kennedy has, as of the 2012-2013 school year, a student population of 750 students in grades pre-kindergarten through fifth grade with the pre-kindergarten students attending full-day. Kennedy Elementary offers a variety of academic programs including, Neighborhood Gifted and Talented, Speech, Life skills, and Inclusion for resource students. In addition to these programs, Kennedy offers Bilingual Education in pre-kindergarten through fourth grade and English as a Second Language in kindergarten through fifth grades.
The Kennedy Family believes that 100% of our students will achieve at high levels - with No Excuses!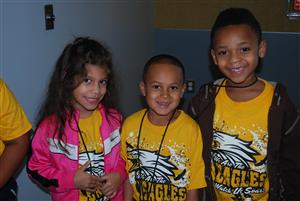 John F. Kennedy students never forget September 11
Karla Venezuela, a fifth grader from Mr. Butler's class, wrote a letter to the police officers who were the first responders to the events on 9-11. Karla wanted to thank police officers and let them know they inspired her. Karla received a letter from Detective Robert Ariola, a first responder to the 9-11 attacks. He thanked Karla for her letter and sent her a small token of his appreciate.