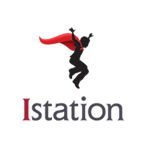 Istation delivers individualized instruction — complete with age-appropriate content — for pre-K through eighth grade students (Kinder through 5th grade at Longfellow). Plus, every lesson is supported with data-rich benchmarks and continuous progress
monitoring assessments through Istation's proprietary ISIP™ technology.
Depending on the grade level, the English reading curriculum includes education in critical reading domains.

And, thanks to ISIP™, Istation's Indicators of Progress assessment technology, the curriculum is adjusted automatically to every child's individual ability in all of the skill areas — from struggling to advanced.
Rich, lively animations and characters draw kids in, engage their interest, and motivate them to participate. From Detective Dan, the Diagraphs, and WordMasters to Mr. Marco, and more, Istation characters serve as welcoming friends and admirable role models that demonstrate how fun — and empowering — learning can be!
NEW!
Istation.com app now available on the App Store!
Click here
for more information!
Please contact your child's teacher for an iStation username and password, if you haven't already received one.
Download

iStation for home use
here
. Your child's teacher can provide you with directions as well as your child's unique username and password (Kinder through fifth grade only)
---