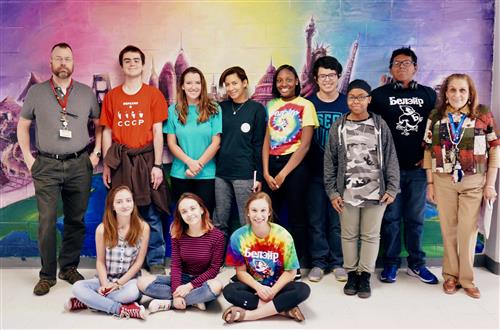 Russian-Essay Contest
Results from the American Council Teachers of Russian (actr) -- Bellaire High School's Russian students received the most medals/awards of any school in the USA!
Essays designated with gold medal awards from students registered in advanced category, levels four through six, will be sent to Moscow's Pushkin Institute for a second round of judging. The level of study is listed next to each student name.
Please note that beginners are second year nationally, which means that our first year students winning medals and awards were only in Russian class for three months and competing nationally with all second year students!!
Please congratulate these hard working students of Russian language and Russian teacher, Ms. McLendon in their quest for excellence and for their national achievement.
The Gold Medals!
Didenko, Irina (6)
Molchanova, Aleksandra (4)
Sharina, Maria (4)
Zhanov, Arkadi (6)
The Silver Medals!!
Katzen, Sarah (1)
Khachaturyan, David (6)
Vasileva, Daria (3)
The Bronze Medals!!
Aceves, Leonardo (1)
Atha, Maxwell (1)
Batkalov, Akzhan (3)
Bouadi, Nadine (3)
Christian, Kira (3)
Diaz, Juan (1)
Didyk, Dmitry (2)
Hardin, Shelby (1)
Leon Medina, Luis (4)
Lomelo, Nicole (4)
Martinez, Karina (1)
Moreno, Jordan (2)
Page, Valentina (4)
Pintchouk, Anna (5)
Rubio, Abel (2)
Sample, Austin (3)
Sanchez, Virginia (6)
Sanders, Katelyn (4)
Stewart, William (6)
Walker, Abigail (3)
Honorable Mention Awards!
Abebe, Rebecca (1)
Aceves, Leonardo (1)
Batz, Karla (1)
Cooney, Cameron (1)
Corbin, Michael (5)
Cruz, Monsrrat (1)
Fradkin, Hanna (1)
Garibay, Megan (3)
Gomez, Miguel (3)
Goodman, Lena (4)
Gray, Le'kevia (1)
Jalilova, Jeyla (3)
Mangupli, Jonathan (1)
Ritchie, Fritz (3)
Rico, Julie (4)
Scott, Jayla (4)
Soto, Jacqueline (4)
Taghiyev, Farid (3)
Wells, Chase (2)
Williams, Joshua (2)