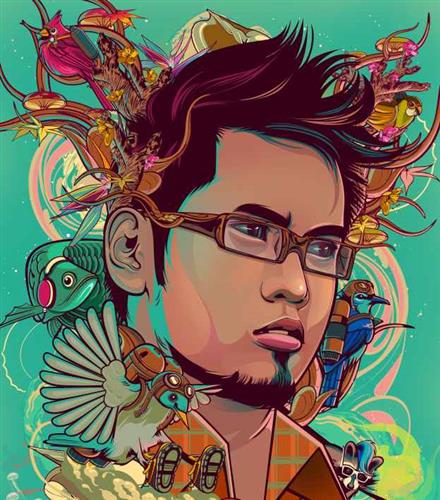 Phone:
Email:
Degrees and Certifications:
BFA in Studio Photography and Digital Media, University of Houston. Adobe Certified Associate: Certified Visual Design Adobe Photoshop CC 2018 Graphic Design & Illustration Adobe Illustrator CC 2018 Print & Digital Media Publication Adobe InDesign Visual Design Specialist (3 content areas)
Ratmany Kang

Hi, I'm Ratmany Kang. I'm native to Houston, and Third Ward. HISD is definitely in my blood from Lockhart (old) Elementary, Ryan Middle School, to HSPVA (c/o 2000), I've been around HISD awhile, & am now back as your creative graphic design teacher.
When I'm not working, you can find me on Reddit, working to further my skills in Adobe, reading manga (Kimestu No Yaiba, The Gods of High School, Dr. Stone, to name a few), watching anime, working on my car, flying FPV drone/qwads, or modding/playing with Nerf toys.
During the summers, I'm usually out of the country, traveling with my wife and son, experiencing, filming with my Mavic Pro/Go Pro Max, and multiplying the five senses of another world.
Can't wait to have you in my class, to see what we can create!

I tend to smile and laugh alot. (click me)

And don't forget, you're awesome!

Stay on yo' grind!

By the way, here's my personality type, so you'll have an idea of what kind of person I am. For the most part, I get along with everyone.

What's your "Ikigai" in life?

I have many favorite quotes, but this one of my favorites from Pokemon The Movie.

Mewtwo: "I see now that the circumstances of one's birth are irrelevant. It is what you do with the gift of life that determines who you are."

Here are some student's works (<--click me)
What can I say, I miss the darkroom, enjoy spirited driving, lover of anime, photographer, seeker of synthwave music that is reminiscent to the 80s, and enjoys traversing the world. My wife and I are teachers with the ideal vacation and spend our summers in different countries during that time.
I wish to get into drone racing/quad/FPV flying to capture shots like the one below. JohnnyFPV is a drone racer I've been following for some time. He's pretty sick on his quad, and those movements...
Music I've discovered..
Recently, I've been getting into Synthwave and retro 80's style music: Here are a few of sythwave music/artists that I recently discovered of the 2018 summer. Wikipedia defines Synthwave as "a genre of electronic music influenced by 1980s film soundtracks and video games. ... In its music and cover artwork, synthwave engages in retrofuturism, emulating 1980s science fiction, action, and horror media, sometimes compared to cyberpunk." My own collection is below, along with some tracks from various animes I've seen.






If you haven't given "The Midnight" a sample, please do so:
Another good one from "The Midnight"
The energy in this song from "Lebrock".
This definitely has 80s vibes! The hero makes his comeback and beats the bad guys!
From Alan Walker:
A beautiful song, music video, & message from Ed Sheeran, about people..
Influenced by video games and movie soundtracks of the 1980's, Synthwave is the perfect blend of retro with modern sounds. There's a reason for why the sounds of the 80s continue to remain relevant in pop culture and in the music scene – because sounds of the synth are unique and one of a kind. Synthwave takes all of the best aspects of the 80s aesthetic and repackages it into something entirely new and modern. It's as if the 80s have returned with a vengeance. Check out Synthwave today for a throwback like no other.
Reddit Illustrator (helpful site to better your skills)
r/AdobeIllustrator: The home of Adobe Illustrator on reddit. We welcome people with questions, tutorials, art to show off, critics... ***all things ...
PhotoPea (alternative to Photoshop & FREE!)
Free online photo editor supporting PSD, XCF, Sketch, XD and CDR formats. ( Adobe Photoshop, GIMP, Sketch App, Adobe XD and CorelDRAW). Create a new image or open existing files from your computer. Save your work as PSD (File - Save as PSD) or as JPG / PNG / SVG (File - Export).
Illustrator Online Editor allows you to create vector graphics in your browser for free! Draw illustrations using custom brushes, design web page layouts, logos and banners with this Free Illustrator Online Editor.