Cinco de Mayo 2018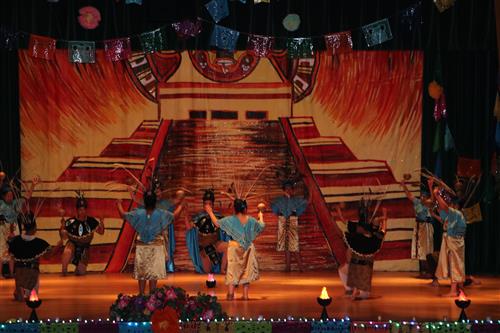 Burbank Middle School's traditional Cinco de Mayo Celebration began with the Aztec Procession and Aztec Dance. Immediately afterwards, our narrators Evelyn Martinez and Jaylon Jenkins welcomed all our parents, students, and guests and introduced Burbank's Choir who sang "Un Poco Loco". And so it happened that our dancers and singers entertained and delighted their audience for the next two hours.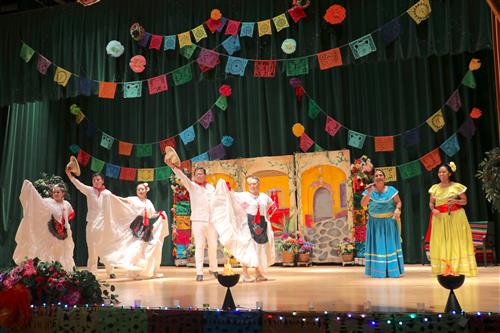 Burbank is very lucky to have such great a number of talented students. The dancers begin practicing in October, such is their dedication and their desire to give their best. This year we also have two excellent singers, Rosa Loera and Randy Gonzalez, who sang "Toro Relajo" and "Como Quien Pierde una Estrella" respectively.
We have a very talented faculty as well, with Ms. Amanda Vasquez Monita, Ms. Krystal Wilkes, Ms. Loreta Kovacic, and Mr. Ruben Ajo singing during several sections of the program. Ten teachers also performed a salsa number! All together, there were more than twenty different song and dance numbers performed by our students and teachers!
Such a quality program can't happen without the dedication, energy, and expertise of the Cinco de Mayo Coordinator, Dr. Linda Velasquez. She, however, is quick to point out all the help and support she received from a great number of people, especially her right hand Ms. Lucero Rodarte. Please click

here

for a list of people who participated and/or helped with the program.
A very special

Thank You

goes to our principal, Mr. David Knittle, whose encouragement and assistance we really appreciate!
Please click
below for a sample
video of our program!
Photographs by Vanessa Carranza