First Sergeant Cinnamon Chambers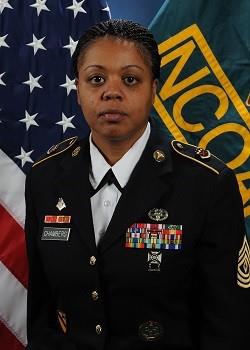 Phone:
Email:
Degrees and Certifications:
First Sergeant Cinnamon Chambers

1SG Cinnamon Chambers

First Sergeant Cinnamon T. Chambers enlisted in the United States Army on 07 July 1997. She completed Basic Training at Fort Leonardwood, Missouri and her Advanced Individual Training at Fort Sam Houston, Texas where she was awarded the MOS 68W, Combat Medic.

First Sergeant Chambers has served as a Senior Operations Sergeant, CUOPS NCOIC, Military Science Instructor/Writer, Platoon Sergeant, Drill Sergeant, Section Sergeant, Squad Leader, Medical Aid and Evac NCO, and Driver/Medic.

Her previous assignments were with the Noncommissioned Officers Academy, Fort Sam Houston, TX; United States Military Academy, West Point, NY; HHC 1st Medical Brigade, Fort Hood, Texas; 27th BSB, Fort Hood, TX; 3-34th INF Regt, Fort Jackson, SC; HHT 2/11th ACR, Fort Irwin, CA; 515th FSB, Fort Hood, TX; 27th MSB, Fort Hood, TX; CRDAMC MEDDAC, Fort Hood, TX; Joint Task Force Bravo, Soto Cano Air Base, Honduras; 296th FSB, Fort Lewis, WA; and 5/7 ADA, Hanau, Germany. She has completed three deployments to Operation Iraqi Freedom Mar '04-Mar'05, Operation Enduring Freedom Sep '10- Sep '11, and Operation New Dawn Nov '12- Aug '13.

Her Military Education includes; Warrior Leaders Course, Advanced Leaders Course, Senior Leaders Course, Battle Staff, Master Fitness Course, Drill Sergeant School, Equal Opportunity Leaders Course, Unit Prevention Leaders Course, Commander Total Fitness Course, Combatives Levels 1 and 2, Transportation/ HAZMAT Course, Operations Security Course, Instructor Training Course, SHARP Course, the National Registry of Emergency Medical Technicians-Basic, First Sergeant Pre-Command Course, Master Resiliency Trainer Course and the 70H Health Services Plans, Operations, Intelligence, Security and Training Course. She currently holds a bachelor's degree in Health Care Studies from Ashford University and a master's degree in Health Science Education from Purdue Global University.

Her awards and decorations include the Bronze Star Medal, Meritorious Service Medal (3 bronze oak leaf clusters), Army Commendation Medal (1 silver and 2 bronze oak leaf clusters), Army Achievement Medal (1 silver oak leaf cluster), Army Good Conduct Medal (7th Award), Iraqi Campaign Medal (3 Bronze Stars), Afghanistan Campaign Medal (1 Bronze Star), Global War on Terrorism Expeditionary Medal, Global War on Terrorism Service Medal, Korean Defense Service Medal, Military Outstanding Volunteer Service Medal, Noncommissioned Officer Professional Development Ribbon (Numeral 3 Device), Army Service Ribbon, Army Overseas Ribbon (Numeral 5 Device), NATO Ribbon, Presidential Unit Citation, and the Meritorious Unit Citation. The Combat Medic Badge and Drill Sergeant Badge. First Sergeant Chambers is a recipient of the Order of the Military Medical Merit and a member of the prestigious Leon Van Autreve Sergeant Audie Murphy Club.

First Sergeant Chambers serves as an Army Instructor at Scarborough High School and has been assigned since August 2020.