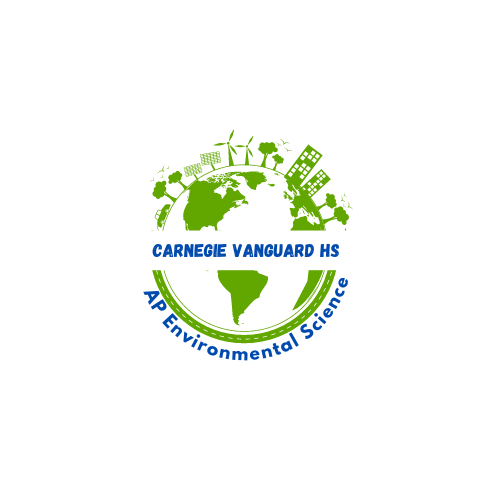 Introduction

Welcome to my classroom! This will be my twelfth year teaching at Carnegie Vanguard High School. I hold a Bachelor of Science from Tarleton State University with a degree in Animal Science and a Biology minor.

Course Outline (Source: CollegeBoard)

The AP Environmental Science course is designed to engage students with the scientific principles, concepts, and methodologies required to understand the interrelationships within the natural world. This course is designed to be the equivalent of a one-semester, introductory college course in environmental science.

Science Practices

The AP Environmental Science practices describe what a student should be able to do while exploring course concepts. At the end of the course, each student will be able to –

Explain environmental concepts, processes, and models presented in written format;
Analyze visual representations of environmental concepts and processes;
Analyze sources of information about environmental issues;
Analyze research studies that test environmental principles;
Analyze and interpret quantitative data represented in tables, charts, and graphs;
Apply quantitative methods to address environmental concepts;
Propose and justify solutions to environmental problems.

Big Ideas

The big ideas serve as the foundation of the course and allow students to create meaningful connections among concepts.

Big Idea 1: Energy Transfer. Energy conversions underlie all ecological processes. Energy cannot be created; it must come from somewhere. As energy flows through systems, at each step, more of it becomes unusable.
Big Idea 2: Interactions Between Earth Systems. The Earth is one interconnected system. Natural systems change over time and space. Biogeochemical systems vary in ability to recover from disturbances.
Big Idea 3: Interactions Between Different Species and the Environment. Humans alter natural systems and have had an impact on the environment for millions of years. Technology and population growth have enabled humans to increase both the rate and scale of their impact on the environment.
Big Idea 4: Sustainability. Human survival depends on developing practices that will achieve sustainable systems. A suitable combination of conservation and development is required. The management of resources is essential. Understanding the role of cultural, social, and economic factors is vital to the development of solutions.

AP Exam: Monday, May 2nd, 8:00AM

Textbook

Environmental Science for the AP® Course 3rd Edition. Friedland & Relyea. 2019

Topic Outline

APES covers 99 topics over 9 units. The following is the outline for the AP Environmental Science curriculum.

Please note we will cover Unit 4 before Unit 1.

TOPICS (Fall Semester)

UNIT 0 – INTRODUCTION

UNIT 4 – EARTH SYSTEMS & RESOURCES

UNIT 1 – THE LIVING WORLD: ECOSYSTEMS

UNIT 2 – THE LIVING WORLD: BIODIVERSITY

UNIT 3 – POPULATION

UNIT 5 – LAND & WATER USE

TOPICS (Spring Semester)

UNIT 6 – ENERGY RESOURCES & CONSUMPTION

UNIT 7 – ATMOSPHERIC POLLUTION

UNIT 8 – AQUATIC AND TERRESTRIAL POLLUTION

UNIT 9 – GLOBAL CHANGE

Note: Schedules are approximate and subject to change.

Grading Policy

Students earn a grade based on the quality and accuracy of their completed work.

60% Major grades - Tests, labs, projects, quizzes
40% Minor grades – All others

Tests are patterned after the AP Environmental Science exam and may include a mix of multiple-choice and free response questions.
Labs related to the topic will be completed throughout the year.
Projects are long-term assignments and could include presentations to the class as part of the grade. These are mostly done outside of the class period.
Quizzes typically follow reading and/or daily video assignments. Lectures may not come until after the quiz.
All Others include classwork, homework, participation, and other similar short-term assignments.

Classroom Expectations:

Be respectful
Be on time and on task
Be prepared
Be responsible

Consequences:

Verbal warning
Student-Teacher conference and parent/guardian contacted
Parent-Student-Teacher conference
Referral to the office

Labs

Practice safety rules at all times! Violations of safety rules will result in a maximum grade of 70. Depending on the severity of the offense, you may be timed out from the activity. Once that happens, you automatically get a zero for that particular activity, a conduct grade of "P" for the grading cycle, and a referral to the Principal for administrative sanctions. In order to participate in labs, you must make at least an 80% on the safety quiz and turn in a signed safety contract.

You will need a lab notebook for labs. Lab notebooks should be a 1" binder or you can purchase a spiral science lab notebook from Amazon or Barnes & Noble.

Student Responsibilities and Classroom Procedures (Class Culture)

Come to class on time, prepared and ready to work. You must be signed in to be counted on time. If you are delayed elsewhere within campus, you will need to secure a legible written pass to be admitted. The pass is only for admittance purposes.
Food, drink, gum/candy, cell phones, music/video/game players and other such non-school related items are not permitted except with special permission by me. These items will be confiscated and returned to you only after discussion with me.
Leave the room as clean or cleaner than you found it (Leave No Trace).
Attend to your personal needs before coming to class.
Stay on task.
Academic Integrity: Cheating, copying, and plagiarizing will not be tolerated in this course. Any student displaying academic dishonesty will be reported and referred to the Assistant Principal. The student will receive grade of "0" on the assignment and there will not be an opportunity to make up the assignment. This includes exams and quizzes.
Safety first! Violations of safety rules will result in a maximum grade of 70. Depending on the severity of the offense, you may be removed from the activity and earn a grade of "0" for that particular activity.
Always write your first and last name, date, and class period to get credit for all work you submit.
Write neatly and legibly. I will grade only what I can read!
Not everything we do will be for a grade. Some things are just to help you improve in APES.

Assignment Calendar

A calendar outlining the semester will be posted in Canvas and taped to the class whiteboard. Every test, quiz, project, homework assignment, lab, activity, and field trip will be posted on this calendar. You will know at the beginning of the semester all assignment deadlines and schedules. You are expected to look at this regularly to check for any changes and/or updates!

Labs

When you are involved in a lab, you MUST act accordingly. Participating in lab is a privilege, one that can be taken away if the proper procedures are not followed. If you do not follow the rules of the lab then you will not be allowed to participate and will receive a zero for that lab as well as a zero for your lab skills grade. In order to participate in lab you must make at least an 80% on the safety test and turn in a signed safety contract.

Absences

You are expected to attend class every day. If you are absent, it is your responsibility to promptly gather the assignments that you missed. I will not remind you of missed assignments, you must take the initiative to find out. If you miss a test or quiz YOU must schedule a make-up, but keep in mind that the format of the retest is at the teacher's discretion. It is your responsibility to reschedule your missed test within the absence policy. Any assignments not made up from an absence will result in a zero. Please do not disturb the teacher during class to get missed assignments. Email, wait for a quiet time, or come by outside of class time.

Late Policy

All assignments are due ON TIME. Late homework will be accepted up to one day late and no later. Maximum score for late work submitted is 70% for one day late and 0% thereafter. If you are on campus the day an assignment is due, you are required to turn it in, even if you miss your class period. Being away from school for any school-related activity does not excuse you from turning in any due assignment at assigned times unless you've secured pre-approval. Assignments due during the class period are not eligible for late policy.

Tutorials

I am available to help you better understand information in a small group or individually. Tutoring is available by appointment at lunch and during SSEP. If you are having difficulty ask for help early!

Extra Credit

I do not offer extra credit.

Cell Phones

Cell phones and earbuds/headphones are not permitted for use in class unless directed by the teacher. All cell phones and earbuds/headphones should be put away before class starts and on silent or off.

Students caught with a cell phone will have their phone taken up and held until the end of class. A second violation results in the phone being given to the Assistant Principal. A parent must then come to pick up the phone and will be charged $15 for recovery.

Assignment Resubmission

Resubmissions are permitted at my discretion and only if the original submission was on time or within the 1 day late period.

Retakes and Test Corrections

Students will be given class time for test corrections. Any additional corrections not completed during class time must be completed during advocacy or lunch.

TESTS ARE NOT TO BE REMOVED FROM THE CLASSROOM

If corrections do not bring score up to a 70, students can request a retake.
Maximum of 2 retakes per grading cycle
Maximum retake score is 70 (score of 70 to 100 = 70); highest grade between original/retake
The student, not the parent, must request the retake by email to the teacher.
Student must request the retake within 24 hours of the curved grade posting in PowerSchool and complete the retake within one week of grade posted.
Retakes are for tests only. A reading quiz is an extension of homework and not eligible.
"No show" counts as a taken retake. You will be considered a "no show" if you arrive 15 minutes or later from the start of your scheduled retake time.
Final Exams are not eligible.

Academic Integrity

Cheating, copying, and plagiarizing will not be tolerated at CVHS. Any student displaying academic dishonesty will be reported and referred to the Assistant Principal. The student will receive grade of "0" on the assignment and there will not be an opportunity to make up the assignment. This includes exams and quizzes. Any disruptions, intentional or unintentional, during a test or quiz will be perceived as a violation of academic integrity in the classroom and will be reported. This also includes removing secure tests from the classroom.

Anything not covered in the syllabus is subject to the rules and regulations of the Student Handbook and/or the teacher's discretion.