Scarborough High School Vaccine Clinic (Sat. June 19th)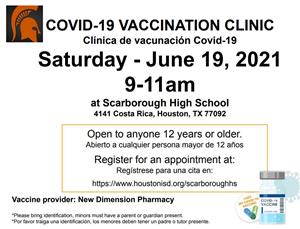 Scarborough High School will host a Covid-19 vaccination clinic on Saturday, June 19th from 9am to 11am on our campus located at 4141 Costa Rica Road. This vaccination clinic will be provided by New Dimension Pharmacy. It's open anyone 12 years or older. There is a link to a sign-up and a link to the consent form below. Students who are under 18 years-old, must have a parent and/or guardian accompany them to the appointment. Please utilize the sign-up and if possible bring the filled-out consent form with you to our campus. Consent forms will also be available for you to fill out upon arrival. Space is limited so please make an appointment and reserve a time slot.
https://www.signupgenius.com/go/10C0C4CAAAE23A0F4C43-covid196
Scarborough High School organizará una clínica de vacunación contra Covid-19 el sábado 19 de junio de 9am a 11am en nuestro campus ubicado en 4141 Costa Rica Road. Esta clínica de vacunación será proporcionada por New Dimension Pharmacy. Está abierto cualquier persona de 12 años o más. Hay un enlace a un registro y un enlace al formulario de consentimiento a continuación. Los estudiantes menores de 18 años deben contar con un padre y/o tutor que los acompañe a la cita. Por favor, utilice el registro y, si es posible, traiga el formulario de consentimiento rellenado con usted a nuestro campus. Los formularios de consentimiento también estarán disponibles para que los llene a su llegada. El espacio es limitado, así que por favor haga una cita y reserve una franja horaria.
https://www.signupgenius.com/go/10C0C4CAAAE23A0F4C43-covid196