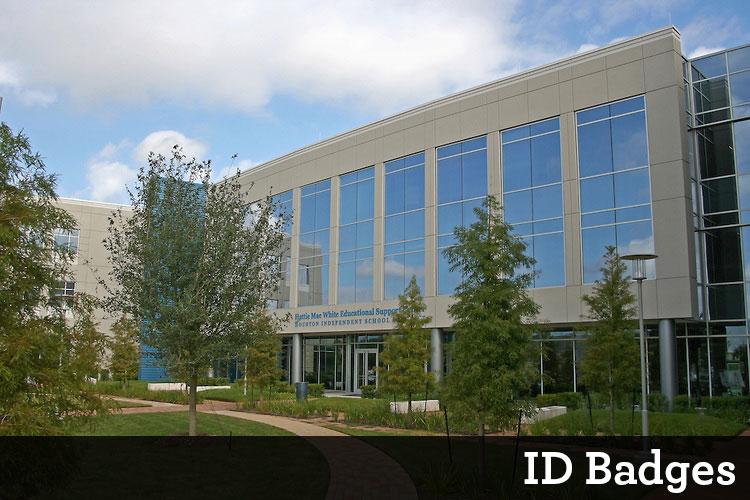 HISD Badges

HISD badges are created and distributed by the Onboarding & Organizational Development department. The Badge Desk is open from 7:30 A.M. to 5 P.M., Monday through Thursday and is located at the Hattie Mae White Educational Support Center. If you need assistance with badges for employees or contractors, please find some of the most commonly asked questions below, or contact us at the email address and phone number listed below.

I'm a new employee, how do I get an employee ID badge?

When you come to Human Resources to complete your hiring process, you will have your ID badge photo taken.

After your paperwork has been processed

and you have been entered into our employee system, you will receive an invitation to New Employee Orientation, where you will receive your ID badge.

I'm an existing employee, how do I get a replacement badge?

You may obtain a replacement ID badge from the Badge Desk at the Hattie Mae White Educational Support Center. Replacement badges cost $5.00. You may pay for your replacement with cash, personal check, or your debit/credit card (we do not accept American Express). If paying with debit/credit card, you are required to pay $5.00 plus a convenience fee to obtain your replacement ID.

I'm a contractor, how do I get a badge?

Contractors must obtain the permission of their sponsoring department to receive a contract ID badge. The sponsoring department should have a contractor form filled out and emailed to

onboarding@houstonisd.org

Once the Onboarding department has received this e-mail from the sponsoring department, contractors may obtain ID badges at the Badge Desk. Contractors will need to bring a valid driver's license or state ID and $5 to cover the cost of the ID badge.

All technology contracts require background checks for contractors/subs/temps to be valid within a year.

Termination of Contract Employees

Upon termination of a contract employee, the contractor shall immediately notify the HISD department manager using the contractor's service and secure the return the HISD ID badge. If the contractor is unable to obtain the HISD ID badge from the employee, the contractor must send the name of that employee to the HISD manager. Upon receipt of this information, the ID badge coordinator will update the employee's record in the ID badge database to prevent the issuance of a replacement badge for a terminated employee.

How do I access my HISD e-mail and computer?

When you pick up your employee ID badge, you will also receive a Network ID letter. The Network ID letter will give you your username and a temporary password for your HISD e-mail account as well as information about how to access the Employee Portal.

What is myHISD, and how do I access it?

myHISD provides you access to your HISD e-mail from non-HISD computers as well as access to your pay statement and leave balances. Additionally, by signing into the myHISD, you can access employee-only resources on the HISD website. To log in to the myHISD from the HISD home page (

www.houstonisd.org

), click on Employee tab, and then sign in with login/password.

Hattie Mae White Educational Support Center Access Badges

HISD employees, contract personnel, and other individuals who either work at or regularly visit the Hattie Mae White Educational Support Center may request an ID badge that allows them access to the building.

District employees who need access to the building beyond "General Business Day" (Monday-Friday; 6:00 a.m. - 9:00 p.m.), should also submit an Additional Access/Renewal Request. This option is only available to district employees who have offices, cubicles, or work stations located in the HMW building.

Please note that HMW Access badges are not intended for field personnel, employees, contract workers, or other individuals who only visit the HMW ESC occasionally.

For questions regarding your ID badges, contact the Onboarding team by emailing

onboarding@houstonisd.org

or by phone at 713-556-7575.
Contact Us
Onboarding & Organizational Development

1W22A

Houston, TX 77092


713-556-7575