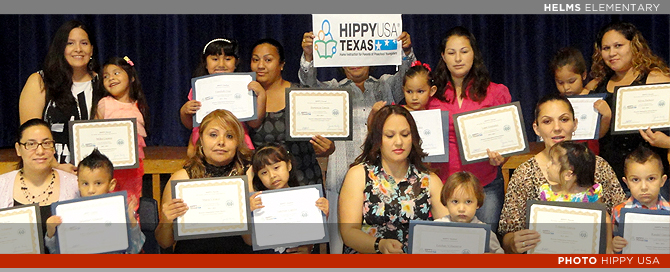 HIPPY PROGRAM

Home Instruction for Parents of Preschool Youngsters

We invite you to participate in the HIPPY program. This program works with parents who have children aged 3 and 4, at home or attending school in Pre-K. A team visit parents to Role play with them and give them the material they will need to work with their children; all at no cost.

The first group of Helms who participated in this program received its certificate in June, and soon another period of visits will start, so we are inviting parents who are interested in preparing their children in their early school learning.

Home Instruction for Parents of Preschool Youngsters (HIPPY) is an evidenced-based program that works with families in the home to support parents in their critical role as their child's first and most important teacher.

HIPPY strengthens communities and families by empowering parents to actively prepare their children for success in school. Parents are provided with a set of carefully developed curriculum, books and materials designed to strengthen their children's cognitive skills, early literacy skills, social/emotional and physical development.

HIPPY programs serve families from diverse ethnic and geographic groups across the nation, particularly those most at risk because of poverty, parents' limited education and social isolation. As a result, HIPPY is closing the achievement gap by serving more than 15,000 families in almost 140 communities across the country.

PROGRAMA HIPPY

Instrucción en el Hogar para Padres de Niños Preescolares

Les invitamos a participar en el programa HIPPY. a participar en el programa HIPPY (Home Instruction for Parents of Preschool Youngsters, por sus siglas en inglés). Este programa trabaja con los padres de familia que tienen niños de 3 y 4 años de edad, ya sea que estén en casa o asistiendo a la escuela en Pre-Kínder. un equipo de personas visita a los padres para hacer Role play con ellos y darles el material que necesitaran para trabajar con sus hijos; todo esto sin coste alguno.

El primer grupo de Helms que participó en este programa ya recibió su certificado en junio, y próximamente se iniciará otro periodo de visitas, por lo que estamos invitando a los padres que estén interesados en preparar a sus hijos en sus inicios de aprendizaje escolar.

HIPPY es un programa basado en la evidencia que trabaja con las familias en el hogar para apoyar a los padres en su papel fundamental como primer y más importante maestro de su hijo. HIPPY fortalece a las comunidades y familias por motivar a los padres a preparar activamente a sus hijos para el éxito en la escuela. Los padres cuentan con un conjunto de cuidados y desarrollados currículos, libros y materiales diseñados para fortalecer las habilidades cognitivas de sus hijos, la alfabetización temprana, el desarrollo social, emocional y físico.

Los programas HIPPY sirven a familias de diversos grupos étnicos y geográficos en todo el país, sobre todo aquellos en mayor riesgo debido a la pobreza, la educación limitada de los padres y el aislamiento social. Como resultado, HIPPY está cerrando la brecha en el rendimiento por su servicio a más de 15.000 familias en 140 comunidades de todo el país.