6th Grade Science Syllabus

Meet the Teachers:

Ms. Corrales (Room A117A/B) ccorrale@Houstonisd.org

Course Description: Welcome to 6th grade science. Classes will meet Monday through Friday for 25-50 minutes. Tutorials will be offered during the school year in order to make sure students are given the help they need to meet state standards.

Six Grade emphasizes the following content:

Scientific Method and Problem Solving
Properties of Matter
Introduction to Energy and Energy Resources
Forces and Motion
Earth and Space Science
Cells and Ecosystems

Resources and Materials: Students will use the following materials in class: Science workbook, composition notebook, colored pencils, black pencils, red and blue/black pen, glue stick, scissors, red pocket folder for homework, pencil sharpener, markers.

Class time: students will use a variety of techniques in order to develop each student's critical thinking and problem-solving skills. These include direct teacher instruction, guided individual and group inquiry as well as group problem solving exercises, and individual/group presentation of investigating the world and solutions.

Labs: will help develop understanding of the scientific concepts as well as the ability to design and utilize an open-ended inquiry-based method of exploration. Students will learn to analyze data in a variety of method including data tables and graphs in order to develop higher level thinking skills.

Students will be required to keep an Interactive Lab Notebook for lab reports.

Assessment: Students will be assessed through daily class work, lab work, projects, presentations, quizzes, and tests. Rubrics will be given as projects are assigned and will explain how points are awarded.

Grading:

50% Formative assessment (warmups, quizzes, class work, labs, participation)
40% Summative Assessment (Test, presentations, projects)
10 % Homework, journals

Classroom Procedures:

Enter class quietly, get your warm up. Go directly to your seat.
Keep science materials on desk. All other items go under seat. PLEASE DO NOT TOUCH ANY LAB ITEMS ON YOUR DESK UNTIL INTRUCTED TO DO SO. We will do many labs in class and you may find items on your desk. If you choose not to follow procedures, you will be removed from the lab activity and will complete an alternative assignment.
Completely copy agenda into your agenda book.
Be ready to learn!

Classroom Expectations:

Every student is expected to follow the classroom rules listed below.

Be responsible (follow directions, stay on task, be on time)
Come to class prepared (bring required classroom materials, homework, and be ready to learn)
Always show respect to yourself, be nice (WE ARE BULLY FREE), raise your hand to speak, listen when others are speaking
Keep hands, feet, and objects to yourself
Science materials are to be treated with care. Improper use of any equipment will cause future lab privileges to be taken away and could result in an administrative write-up.

Late Work:

You will have up to seven days to turn in late work.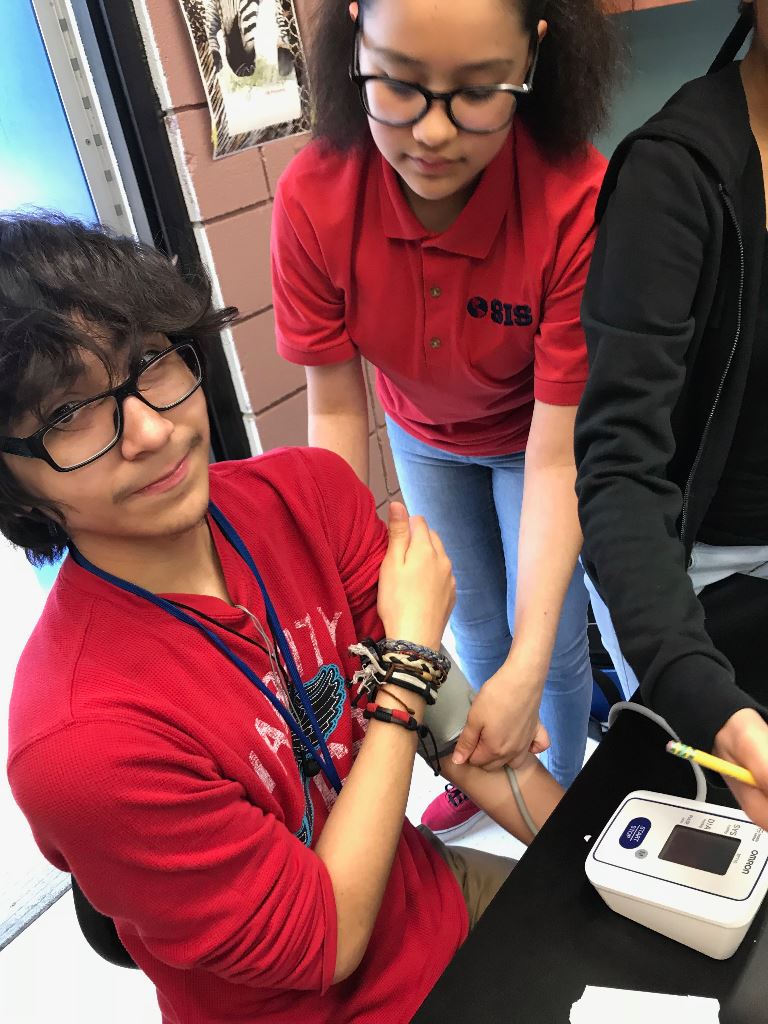 Last Modified on September 1, 2020