Return to Headlines
Bell Schedule, Uniforms, Teacher Planning Times
Teacher Planning times
First Grade 11:30 to 12:30

Second Grade 8:30 to 9:30

Third Grade 9:30 to 10:30

Fourth Grade 1:40 to 2:40

Fifth Grade 10:30 to 11:30
Lunch Times by Grade Level
First Grade 10:30 to 11:00

Second Grade 11:00 to 11:30

Third Grade 11:30 to 12:00

Fourth Grade 12:00 to 12:30

Fifth Grade 12:30 to 1:00
Bell Schedule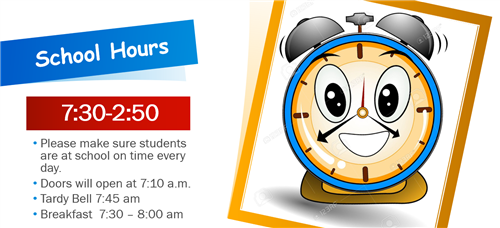 Uniform Information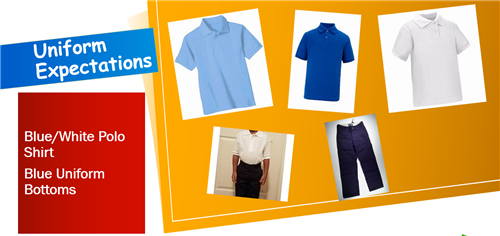 Lewis Elementary Student Dress Code 2019-2020
The purpose of the Student Dress Code is to ensure a safe learning environment and promote a climate of effective discipline that doesn't distract from the educational process. Teachers must check uniforms daily and send students to the office who are in violation of rules. A notice will be sent to parents. If the dress code violation continues, students will be assigned detention.
Shirts
Solid color polos: Royal blue, white, or navy blue. Lewis spirit shirts may be worn any day of the week. School spirit shirts (with school logo) or college shirts may be worn on Fridays with blue jeans. School spirit shirts can be purchased in the main office. Cash only, please. No oversized or baggy t-shirts are allowed.
Pants, Skirts, Shorts, Jumpers, and Skirts
Must be solid-colored Navy or khaki (denim/jeans are only allowed on Fridays) Jeans must NOT have holes, frays, or be offensive in any manner.
Pants must not fall below the waistline. "Saggy or baggy clothes" are not acceptable at Lewis Elementary.
Oversized or undersized shorts, skirts, pants, or jeans will not be permitted.
Nylon fleece and sweat pants will not be permitted.
Outer Garments
Hooded jackets and sweaters may be worn. Hoods must be removed once the student enters the building. If a student refuses to remove his/her hood in the classroom/school, the teacher or staff member may confiscate the jacket and return it at the end of the school day.
Additional Dress and Grooming Regulations
Shoes with rollers/wheels underneath are not permitted.
Closed-toe shoes must be worn at all times.
For safety reasons, platform shoes or any backless shoes are not allowed.
Sunglasses, hats, caps, bandannas, etc. may not be worn.
All students will be expected to dress respectably and as outlined in the school's dress code.