Return to Headlines
Coffee with the Principal
COFFEE WITH THE PRINCIPAL
September 2019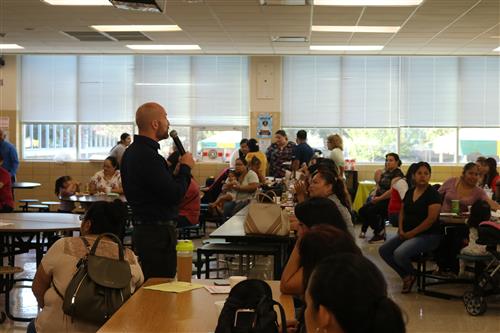 Last September 5, 2019 was our first Coffee with the Principal Meeting. Principal Knittle was very happy to see so many parents present at the meeting. He took the opportunity to present the Administration Team to our parents. We have a new eighth grade Assistant Principal, Ms. Marshall, and a new 7th Grade Counselor, Ms. Porras. They join the rest of our excellent Administrator and Counselor team: Ms. Jennings, Mr. Pineda, Mr. Valentino, Ms. Boswell, Ms. Vasquez, Ms. Johnson, Ms. Cortina, and Mr. Martinez. They were present to introduce themselves and assure our parents that they are working diligently to ensure that at Burbank Middle School, our students receive nothing but the best education we can possibly provide. Proof of that is the fact that Burbank Middle School has again MET STANDARDS and received ALL SEVEN DISTINCTIONS from TEA for 2019. This is the fourth consecutive year that our school has earned all Seven Distinctions. In addition, Mr. Knittle was happy to announce that Burbank had also been designated an "A" Rated Campus by TEA.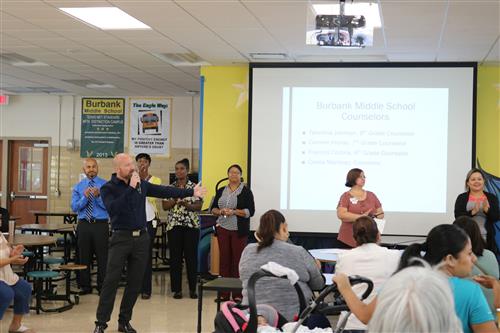 This first meeting was a bit longer than usual because enough time was given for all introductions as well as a discussion of the student assessment and our school data.
The Coffee with the Principal meetings are held every first Thursdsay of the month at 9:00 am in the school cafeteria. It is a great opportunity for parents to be informed about events at Burbank and to bring whatever concern they may have. Parents can check for the exact meeting dates as well as the power point presentations in the Get Involved Channel in our website. Click HERE.
We hope to see you at our meetings!