Return to Headlines
Be A Middle School Student For A Day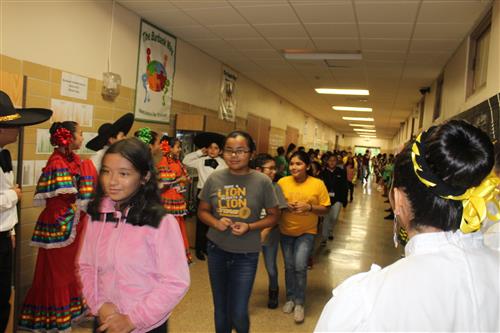 Fifth Graders Visit Burbank
As it has been the tradition at Burbank for the past nine years, Burbank Middle School hosted the fifth grade students from our surrounding elementary schools. Burbank invited them to visit on Fraiday, October 11, 2019, dividing the groups into two sessions. The morning session began at 9:00 am and the afternoon one started at 12:15 pm. There were more than 1,400 students on our campus from our visiting schools:
AM Session: Berry, Herrera, Lyons, Burbank, Durkee, Ketelsen, Coop, and Janowski
PM Session: Northline, Garcia, Roosevelt, Moreno, and Kennedy
The buses dropped off each school on the G wing and the students came in through the B Hall accompanied by their teachers. Our Cheerleaders, Las Aguilas Doradas, and the Eagle Twirlers lined the hall, greeting our visitors as they made their way to the auditorium. The Eagle Band, under the direction of Mr. Wilford Glenn, had situated themselves in the four corners and played as we welcomed our guests. It was a colorful and festive atmosphere as our students made sure our future Eagles felt as if they had come home!
Once in the auditorium, our Vanguard Coordinator Ms. Vasquez, welcomed them and introduced Principal Knittle who welcomed our future Eagles. During the power point about our school, Ms. Vasquez introduced each one of our student organizations that participated in the program.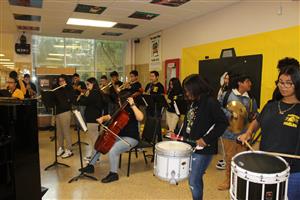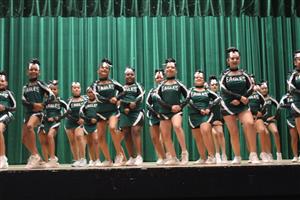 Ms. Vasquez spoke not only of the great activities we have at Burbank, such as Art, Band, Theater, and Karate among others, but also of the quality, higher-level classes such as AP Spanish, Robotics, and Pre-AP courses.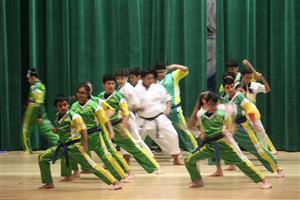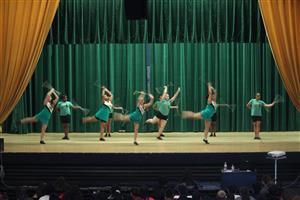 She also spoke of our Award-Winning Dual Language Program, which earned Second Place in the Colegio del Año competition which is sponsored by the Spanish Department of Education. Burbank Middle School competed with all middle schools in the United States that have a Dual Language Program.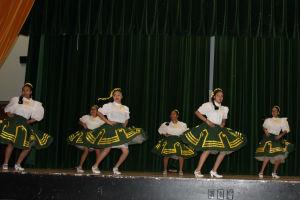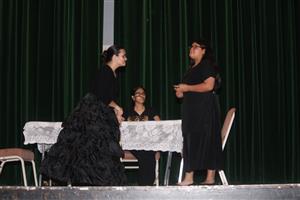 The Program had the participation of the following student groups:
Cheerleaders- directed by Ms. Takeisha Johnson
Ballet Folklorico Las Aguilas Doradas- directed by Dr. Velasquez and Ms. Lucero Rodarte
Burbank Twirlers- directed by Ms. Christy Weeks
Music Theater Club- directed by Ms. Loreta Kovacic
KickStartKarate Students- directed by Master Roy White
Once the activities in the auditorium had concluded, our visitors were escorted around our school, giving them the opportunity to visit classrooms and see for themselves all that will be available to them when they become part of the Eagle Family. They also met in the cafeteria where our 6th grade counselor Ms. Cortina, spoke to them about what it means to move on the secondary school.
If you should have any questions regarding Burbank's programs and offerings, please email our Vanguard Coordinator Amanda Vasquez by clicking her name. If you prefer, you may call her at 713-696-2720 and ask for the Vanguard Office.
Photographs by Vanessa Carranza