Return to Headlines
Burbank Eagles Knock it Out of the Park!
Burbank Eagles Knock it Out of the Park!
Math and Science Family Night
Burbank Middle School's Math and Science Family Night began promply at 5:30 pm on November 21, 2019. Teachers and students were ready to welcome parents, students and guests to show them that our Eagles Knock it Out of the Park each and every day! The event began with an excellent performance by our Karate Demo Team sponsored by their Sensei Master Roy White. Everyone present was greatly impressed by their energy and accuracy as they performed their routines. After the Karate Demo Team performance, Principal Knittle addressed all our guests, formally welcoming them and encouraging them to visit all the zones that were distributed in the cafeteria and the gym.
There were fourteen zones in all. These zones were in the cafeteria:
GeoMath: Mr. Bonilla and Ms. Arguelles
Mini-Me: Mr. Bejko and Ms. Hudson
Rational Toss: Mr. Salas and Ms. Dominguez
The Cup Challenge: Ms. Gray
Burbank's 21: Ms. Washington and Ms. A. Robinson
Dart Board Integers: Ms. Grout and Mr. Bergeron
Bucket Toss: Ms. Bujnoch and Ms. Funderburk
Brain Bowl: Ms. Mancillas and Mr. DeFalco
Battleship: Ms. Castillo and Ms. S. Rodriguez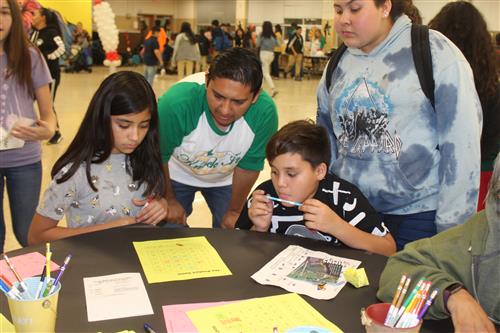 These zones were in the gym:
Base Race: Ms. Lopez, Mr. Salas, and Mr. Bracher
Operation Game: Ms. Perales and Mr. McDaniel
Obstacle Course: Ms. V. Rodriguez and Ms. Malik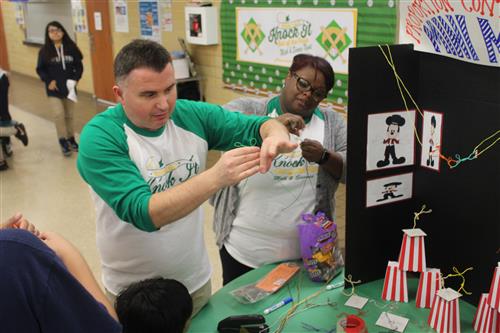 The Eagle Cheerleaders were also in the gym. The performed their routines with enthusiasm to the delight of everyone present. The Eagle Cheerleaders are sponsored by our Lead Counselor Ms. Takeshia Johnson.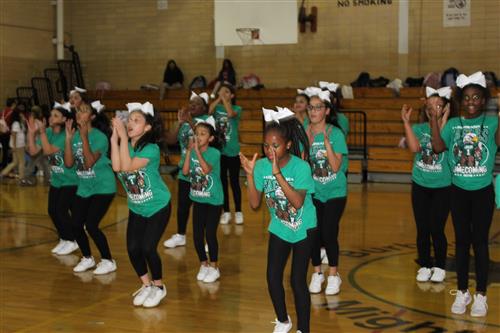 The Museum of Natural Science also set up several tables. They brought in live specimens along with many more preserved ones. Many students were seen experimenting and having fun grappling with science.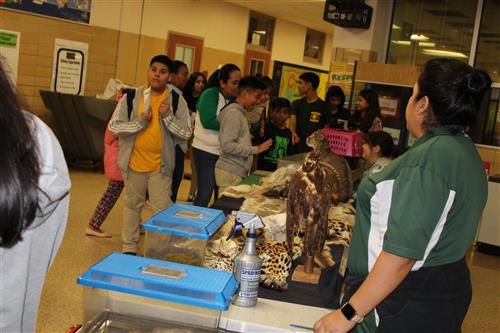 Since this was the week before the Thanksgiving break, Mr. Knittle and the administration team, together with the Math and Science Departments, raffled three turkey baskets with all the goodies necessary for a scrumptious Thanksgiving Dinner.
Thank you to our Principal, Mr. Knittle, for his unwavering support in all our family night activities. Many thanks also go to Department Chairs Mr. Plancarte and Ms. Fretz, their respective department members, and Assistant Principals Ms. Jennings and Ms. Marshall, who worked so hard to plan all the activities everyone enjoyed so much. The evening went by very quickly and before you knew it, it was time to say good-bye until next year! Please enjoy the pictures in the gallery below.
Photographs by Vanessa Carranza