Return to Headlines
Burbank's Traveling Band!
Burbank Eagle Band Goes to Memphis
May 23-27, 2019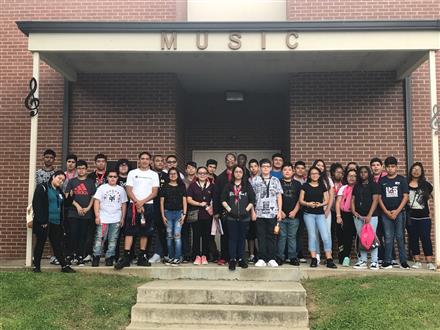 On May 22, 2019, Burbank's Eagle Band under the direction of Mr. Wilford Glenn, had their Spring Concert. This was a very special Spring Concert because it served as an excellent practice for their upcoming marvelous adventure: a road trip that would take them out of town to Arkansas and Tennessee!
Mr. Glenn and the Band Parents had organized five days of learning, performances, and fun. First on the agenda was a trip to Mabelvale Middle School in Arkansas. There they met fellow music students and performed with the Mabelvale MS Band in an afternoon concert. After that great experience, they left Arkansas around 4 in the afternoon for the Crown Plaza Hotel in Memphis, Tennessee.
The following morning after breakfast, the group traveled to Lane College in Jackson, TN where they had an excellent tour of their facilities. Built in 1905, Lane is a Liberal Arts College that has a strong music department. In addition, it has several alumni who have had very successful professional football careers. That afternoon and evening were spent visiting the City of Memphis, famous for its contribution to music in the U.S.A. A great variety music genres are thriving in Memphis, such as blues, rock n'roll, country, soul, and hip hop. Memphis was also very important during the Civil Rights movement and sadly, it is here that the Rev. Martin Luther King was assassinated. There is a National Civil Rights Museum which our students visited during their second day in the city. They also toured the Staxx Museum before they rehearsed for their big day coming up.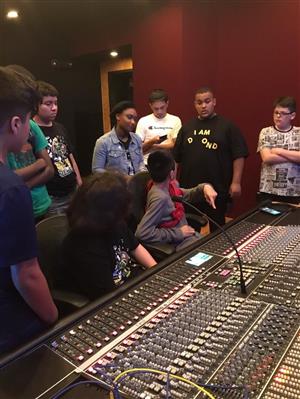 Sunday, May 26th was the big day. Our students spent the day rehearsing for they had a performance at 5:00 pm in the Mt. Olive Cathedral C.M.E. Church. They wanted to be perfect for their participation- and they were! Our students performed wonderfully! We're sure they never imagined that they would be performing outside of Houston, let alone in Memphis, the home of such famous performers like Elvis Presley, Johnny Cash, Aretha Franklin and Justin Timberlake!
After all the excitement of the previous evening, the morning of May 27th found them relaxing and having a bit of fun at the Sky Zone Trampoline Park before heading for home. They arrived at Burbank way past their bedtime, but totally happy and glad for the experience. We are grateful for all the parents and chaperones who helped raise the funds for the trip and then went along to make sure our students were safe. Special thanks go to Mr. Glenn for putting together such an extraordinary experience for our band!