Return to Headlines
Eighth Grade Promotion Ceremony
Eighth Grade Promotion Ceremony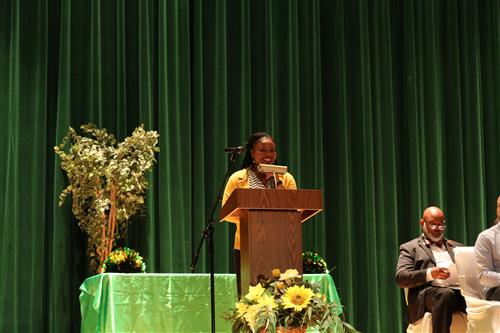 May 31, 2019
Burbank Middle School welcomed its Eighth Grade Students and their proud parents to the promotion and awards ceremony held especially for them in the school auditorium on the morning of May 31st. It was the last day of the school year for all our students and it was especially poignant for our eighth graders. They knew they were leaving the familiar Eagle's Nest to spread their wings in unchartered territory: High School! Angelic Sanchez expressed very well her classmates' gratitude, sadness and excitement at the prospect of this new adventure.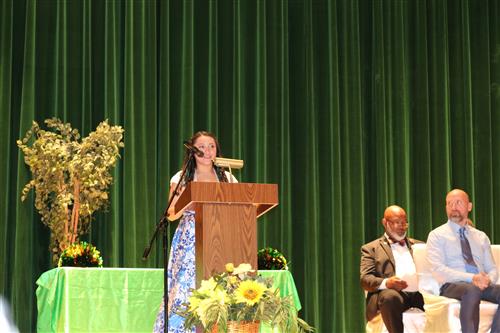 Principal Knittle spoke words of encouragement to the students and their parents. In this world so full of gadgets, fads, and distractions, he pointed out to our students how vital it is to focus on what's really important, their education. He stated, "An education is something that will always be yours and will never go out of style."
All the eighth grade teachers were on stage to show their support for their students and to congratulate them on their successful completion of this first stage of their education. They stood together on stage by academies to greet their students as they crossed the stage to receive their awards.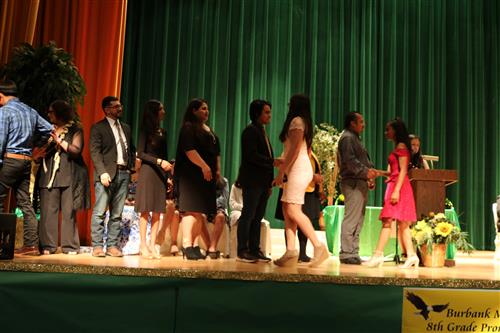 A very special award was given out this year to our Dual Language Academy students. The Houston Independent School District sent a representative from the Multilingual Department, Ms. Xochitl Maya, to distribute a Biliteracy Award to Dual Language students who have participated in the program since elementary school and a special Certificate of Biliteracy to the students who participated in the Dual Language program here at Burbank Middle School. Dr. Velasquez, our Dual Language and ESL Department Chair, remarked that Burbank Middle School was the first secondary school to offer the Bilingual program in HISD, beginning in 1997 with only 24 students. Today, our program has more than 400 participants!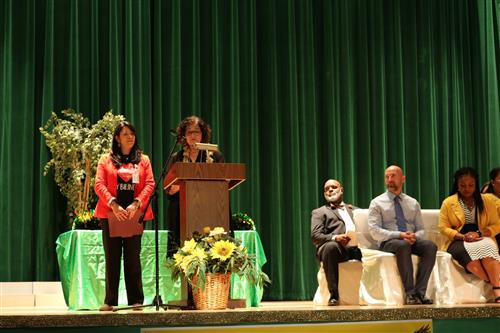 After all awards were distributed, the eighth graders made their way to the cafeteria where their teachers had prepared a wonderful luncheon for them, including dancing to the tunes provided by our DJ Mr. Luviano. The cafeteria was completely transformed into an underwater fantasy where our students were able to have fun together.
Our heartfelt Congratulations to the Class of 2023!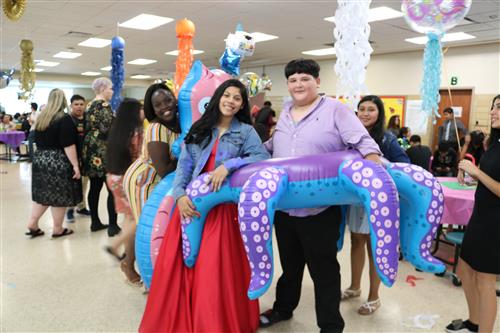 Photographs by Vanessa Carranza