Return to Headlines
Be A High School Student For A Day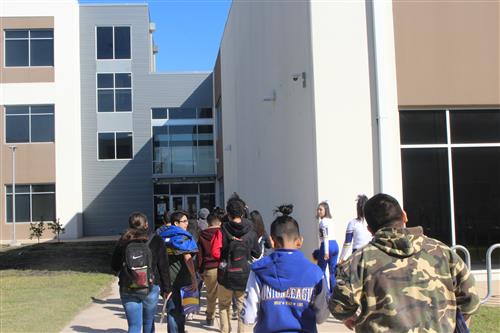 Looking Ahead to High School
Our seventh graders were treated to a very special field trip on November 1, 2019. Twelve Magnet and Early College High Schools opened their doors and hosted our students. They prepared a program for them where they talked about all the special programs and offerings their schools have available for their students. Our seventh graders are already investigating their options from when they have to make their choice next year. The schools that so graciously hosted us are:
If you click on each school's name you will be directed to that school's website.
Our seventh graders were very excited to be given this very special opportunity to see and experience for themselves what it would be like to actually attend any one of these excellent schools. The variety of programs on offer range from law enforcement where they can earn a certificate on airport safety, to early college where they can earn an associate degree, to aviation where they can learn to pilot a plane! There are so many opportunities available and our seventh graders were excited to learn all about them. This visit certainly provided them with the incentive to keep their focus on their studies in order to attend the high school of their choice! Many thanks to Ms. Amanda Vasquez and Ms. Lucero Rodarte for all their work in planning the trip, to Mr. Knittle for his unwavering support, and to all the teachers, counselors, and parents who accompanied our students on this great trip.