Return to Headlines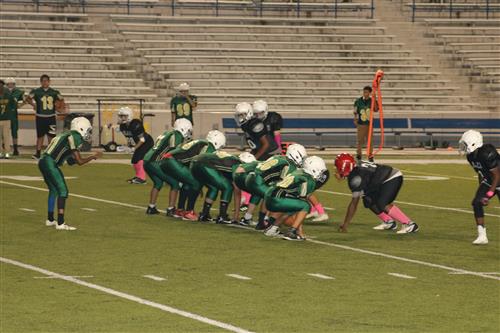 HOMECOMING 2019
This year's original Homecoming Game had to be rescheduled due to bad weather. The game was supposed to be against Fonville MS on October 22nd, but it happened instead against Black MS on October 29th. In spite of the delay and the change of opponent, everyone had a great time. Our Eagle Cheerleaders were ready and so were our Twirlers and our Eagle Band. Herrera Elementary under the direction of Coach McCoy and Lyons Elementary under the direction of Coach Petry, Coach Sanders and Coach Martinez, were also ready to participate in the cheers. The order for the half time show was as follows:
Eagle Twirlers, under the direction of Coach Weeks
Eagle Cheerleaders with Herrera and Lyons Elementaries under the direction of Ms. Takeshia Johnson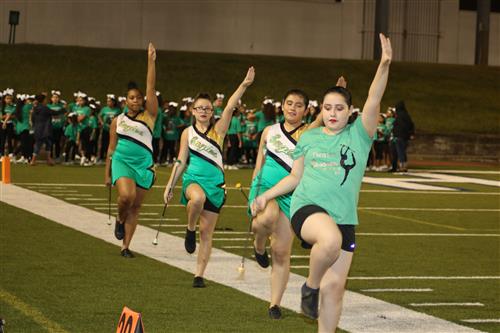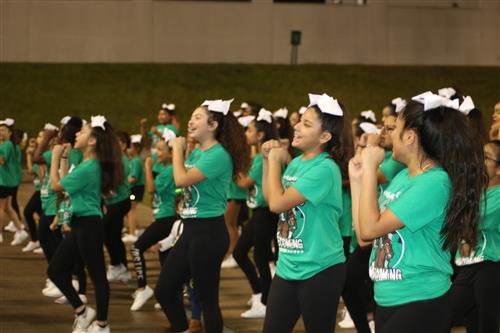 Immediately after the show we had the Homecoming Court parade, preceeded by our Principal Knittle and our 8th grade Assistant Principal Marshall. They, along with 7th grade Assistant Principal Jennings, were in charge of crowning the winners. The announcements were made by our Mistress of Ceremony, Ms. Bobbie Blackwell.
Running for Duke and our Homecoming Duke was Andres Aguinaga.
Running for Duchess were Morgan Atkins, Arianna Ramirez, Bryanna Silva, Zaniyah Warner, and the winner Alyssa Hernandez.
Running for Princess were Brianna Luna, Sofia Cortez, Aylissa Moreno, Kristen Roberts, Nevaeh Silva, and the winner Lizbth Gallegos.
Running for King were Akileez Kelly and the winner Andrew Castro.
Running for Queen were Jade Alegria, Destiny Olguin, Stefanie Palacioas, Amie Salazar, and the winner Vivian Ramirez.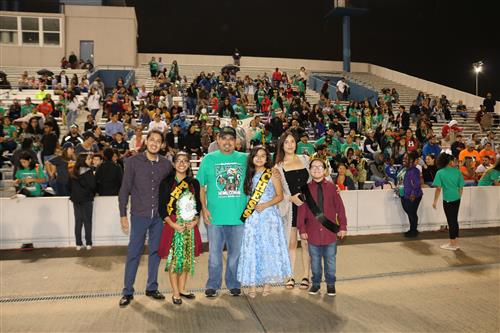 2019 Homecoming Princess Lizbth Gallegos, Duchess Alyssa Hernandez, and Duke Andres Aguinaga pose with their parents.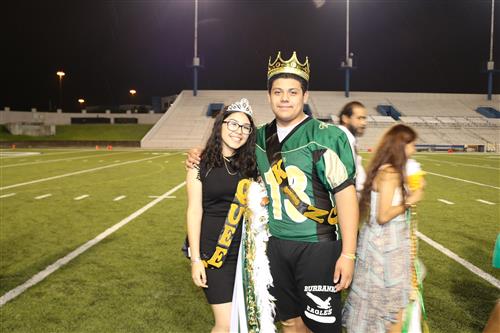 2019 Homecoming Queen Vivian Ramirez and King Andrew Castro pose together
Right after the crownings our excellent Eagle Band under the direction of Mr. Wilford Glenn, began playing to conclude the halftime show.
Many thanks to everyone who worked so hard to make our Homecoming Game a success, especially to Ms. Johnson for organizing the court and all the coaches of our school's organizations that make our school such a great place to be! The game's result unfortunately was not in our favor, but our team played hard and with enthusiasm. Maybe next year to football gods will smile on us and we'll have a win. Until then, we'll have great memories of a wonderful show and a well-fought game.