Return to Headlines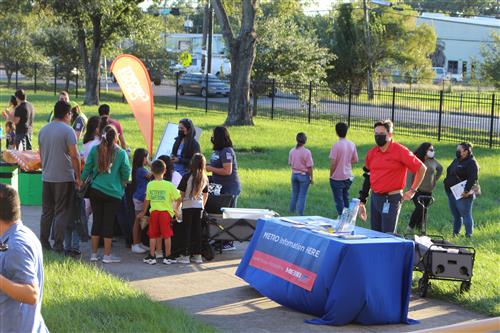 FALL FAMILY MAGNET NIGHT
On the evening of October 27th, Burbank Middle School welcomed its parents and community to its Fall Family Magnet Night. This event was made possible through the collaboration of Avenue CDC, members of our community such as Metro, Sam Houston Math, Science and Technology Center, and members of our students and staff, especially our Wraparound Specialist Ms. Xiomara Ardon. Our Magnet Coordinator, Ms. Amanda Vasquez, welcomed everyone to our campus and invited them to visit the many informative booths that had been set up.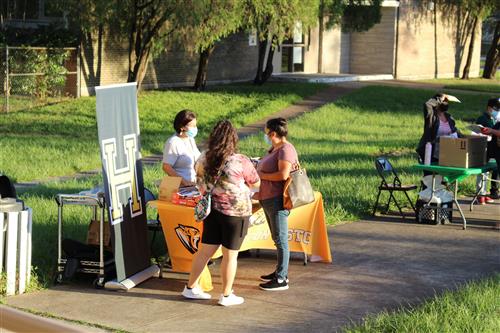 They were there to provide information to our parents and community regarding the many resources available to them through the city as well as many organizations. Parents were also able to gather information about our Magnet Program and our neighborhood schools. To see a list of all the organizations present that night as well as their contact information, please click WRAPAROUND RESOURCES.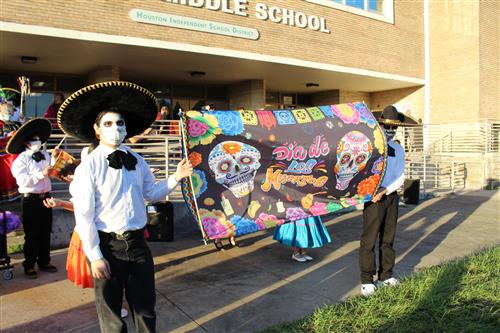 Part of the activities planned for the afternoon included a Day of the Dead Parade ("Día de los Muertos"), put together by our Las Aguilas de Oro folkloric dance troupe under the direction of Dr. Mary Velasquez. The "Día de los Muertos" parade is a very typical and traditional activity meant to commemorate and honor the dead. This parade represents a blend of Mesoamerican ritual, traditional religion, and Spanish culture. Families welcome back their deceased relatives for a little while, remembering their lives with food and drink and a celebration. To that effect, they create an "altar" that is festive and full of food and mementos.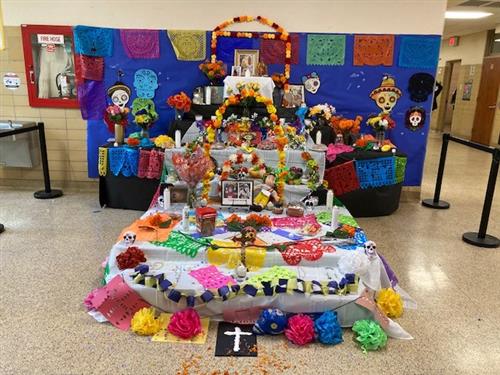 Burbank recreated this "altar" in the four corners, making sure to represent the tradition as faithfully as possible. This included flower decorations, candles, and food such as "pan dulce".
The students participating in the parade were dressed in traditional clothes from many Mexican states. In addition, some were carrying "caravelitas" (small skulls) and some carried candles, all of which were adorned with colorful ribbons. They were also wearing white make up and/or a white mask.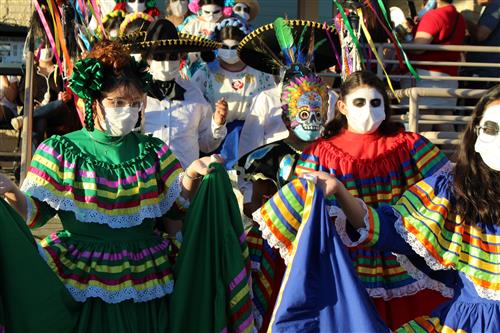 The parade began in the stairs in front of the school, moving past the flag area and out to the sidewalk. They walked a loop in front of the school and ended in the flag square. Once there, Las Aguilas de Oro performed "La Bruja".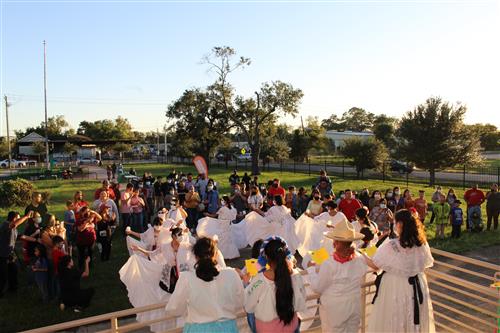 After the parade was concluded, Ms. Vasquez proceeded to raffle several gift cards.
We would like to thank Avenue CDC for providing free pizza and water for everyone as well as for giving us a grant with which to fund this event. We are confident that everyone had a wonderful and informative afternoon while thoroughly enjoying themselves!
Be sure to watch the video of the parade!
*Photographs courtesy of Dr. Velasquez and Ms. Carranza. Video courtesy of Mr. Luviano.