Return to Headlines
"SYLVIA" THEATER PLAY
FALL 2021

Our very excellent Theater Group participated in the Middle School One Act Play U.I.L. Competition which was held at Pershing Middle School. Dr. Kovacic took her students to compete over 2 days, November 5 and 6, using the Friday as a dress rehearsal. She's very proud of her students stating that "They did an incredible job in the contest despite our technical difficulties." They had a lot of trouble with the sound equipment to where their music didn't play when it was supposed to! In spite of that, and for the first time, our students performed their lines from memory, with a lot of emotion, and with a lot of love from the Theater Team. This is the cast and crew:
CAST
Sylvia (Flor Azarte and Yamilet Meza)
Kate (Grace Garcia and Emily Carcamo)
Greg (Alessandro Guzman)
Tom (Aaron Hernandez)
Psychiatrist (Evelyn Gonzales)
CREW
Stage Manager (Abigail Leon and Angela Saldaña)
Music (Elizabeth Crescenciano and Ethan Hortado)
Costumes and Make-up (Isabel Grimaldo and Ashley Chikas)
Props (Emily Yañez and Salena Estrada)
Director (Loreta Kovacic and Sergio Luviano)
The play "Sylvia" is a comedy, a family story about a family adopting a dog named Sylvia. Our team believes that the best part for them was the enthusiastic reception from the audience, who laughed at all the right parts, and thoroughly enjoyed their performance. Judging by the wholehearted committment from the team, and counting on some technical help and advice from Mr. Luviano, Dr. Kovacic is confident that the team can go for the win next year!
In the meantime, the Theater Team will perform "Sylvia" in the school auditorium on Thursday, November 18, 2021, during 8th (after 7th grade lunch), 9th, and 10th periods.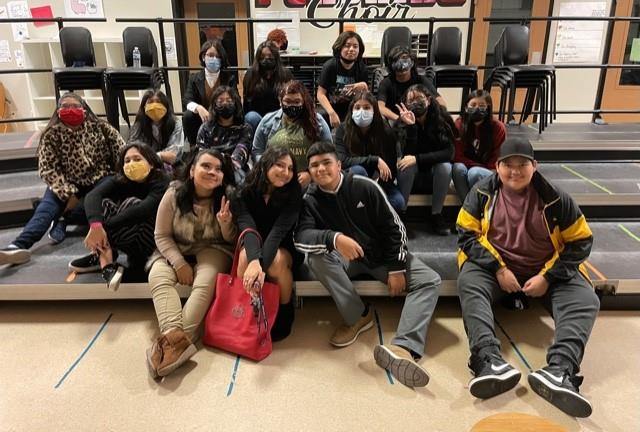 Burbank Middle School Theater Team
The Musical Theater Club meets every Monday from 4 pm to 5 pm and on Saturdays from 10 am to 12 pm.
On January 24, 2022, there will be AUDITIONS for singers-actors who would like to participate in the SCENES FROM MUSICALS which will be presented by the Theater Team next Spring.
PARENT MEETING! There will be a parent meeting on January 31, 2022 from 4 pm to 5 pm in Room A-100