Return to Headlines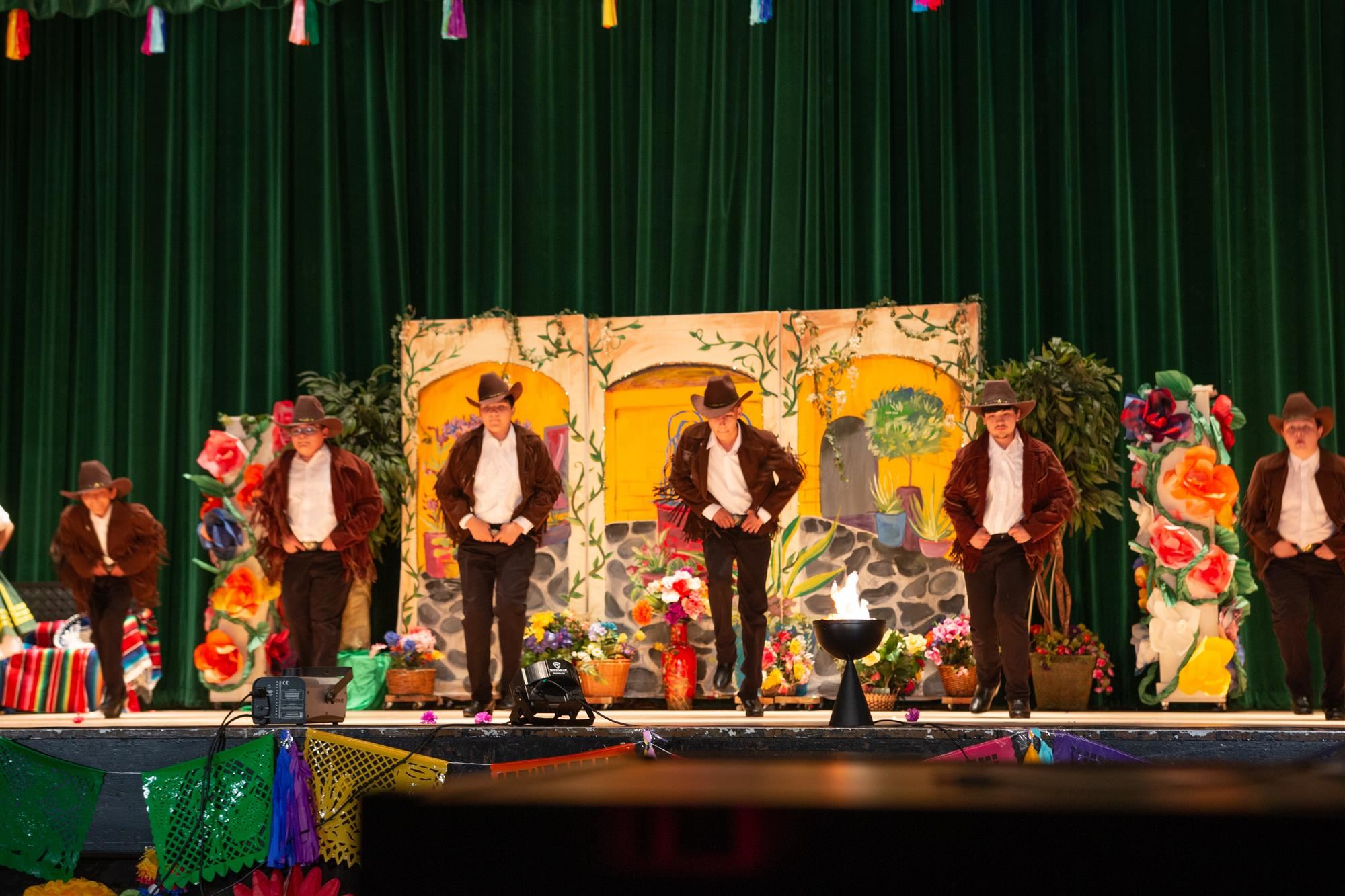 CINCO DE MAYO 2022
After an involuntary interruption of two years, our most excellent Cinco de Mayo Program was back! Friday, May 27, 2022, saw the wonderful return of our cherished traditional event. It was held quite late in the month due to conflicts with testing, but that didn't matter to us. What mattered was that we were healthy and back in form, ready to celebrate and continue a tradition which has been kept alive for 35 years!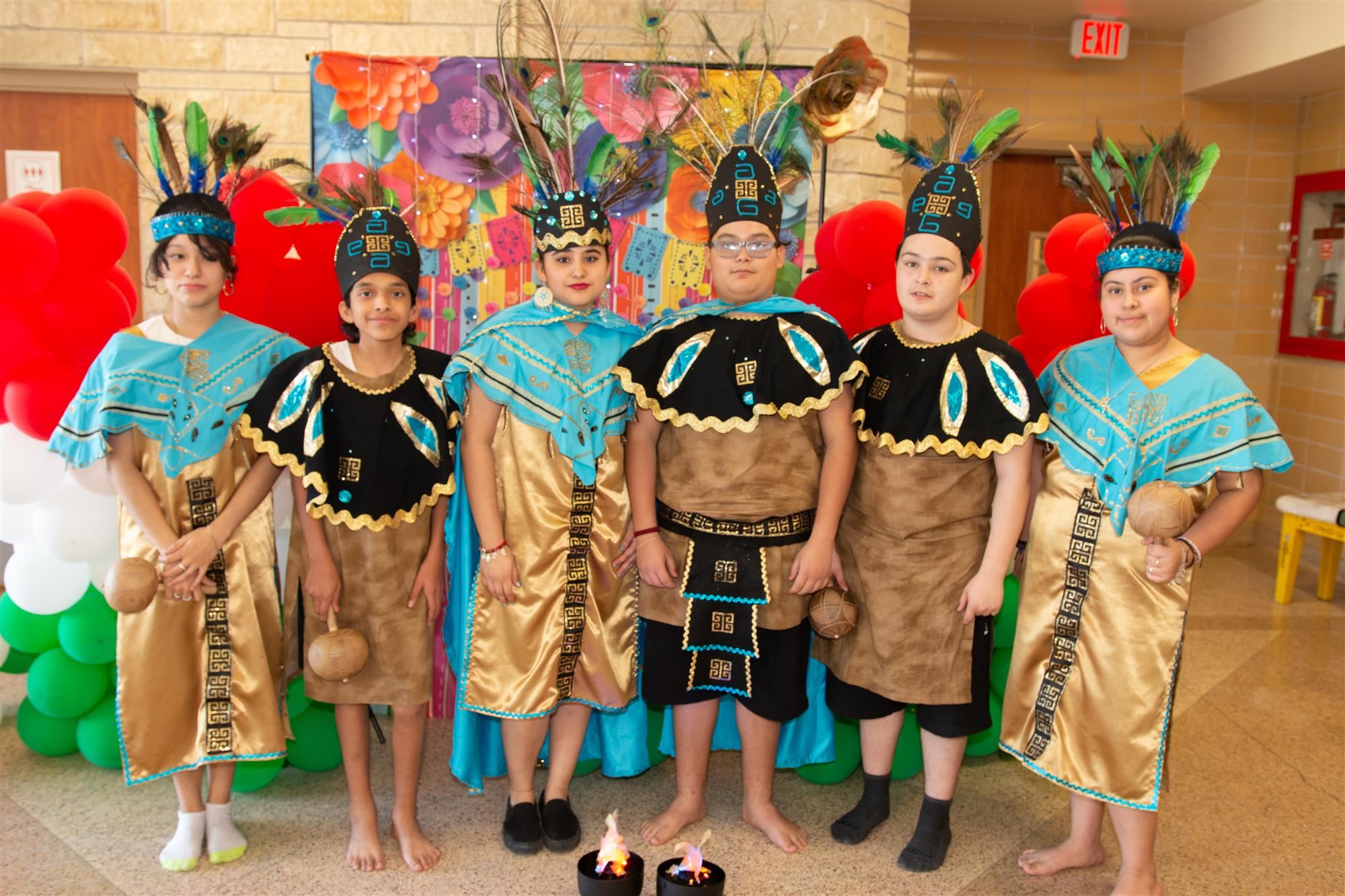 The program began with the traditional Aztec Procession and the beginning of the dramatization of the Battle of Puebla. Different "bulletins" would follow throughout the program, informing everyone about the incredible victory. Our narrators, Sofia Lobera and Sávica Gonzalez, let our parents and guests know all about the beautiful dances they were about to enjoy, dances which represent the many and beautiful regions of Mexico.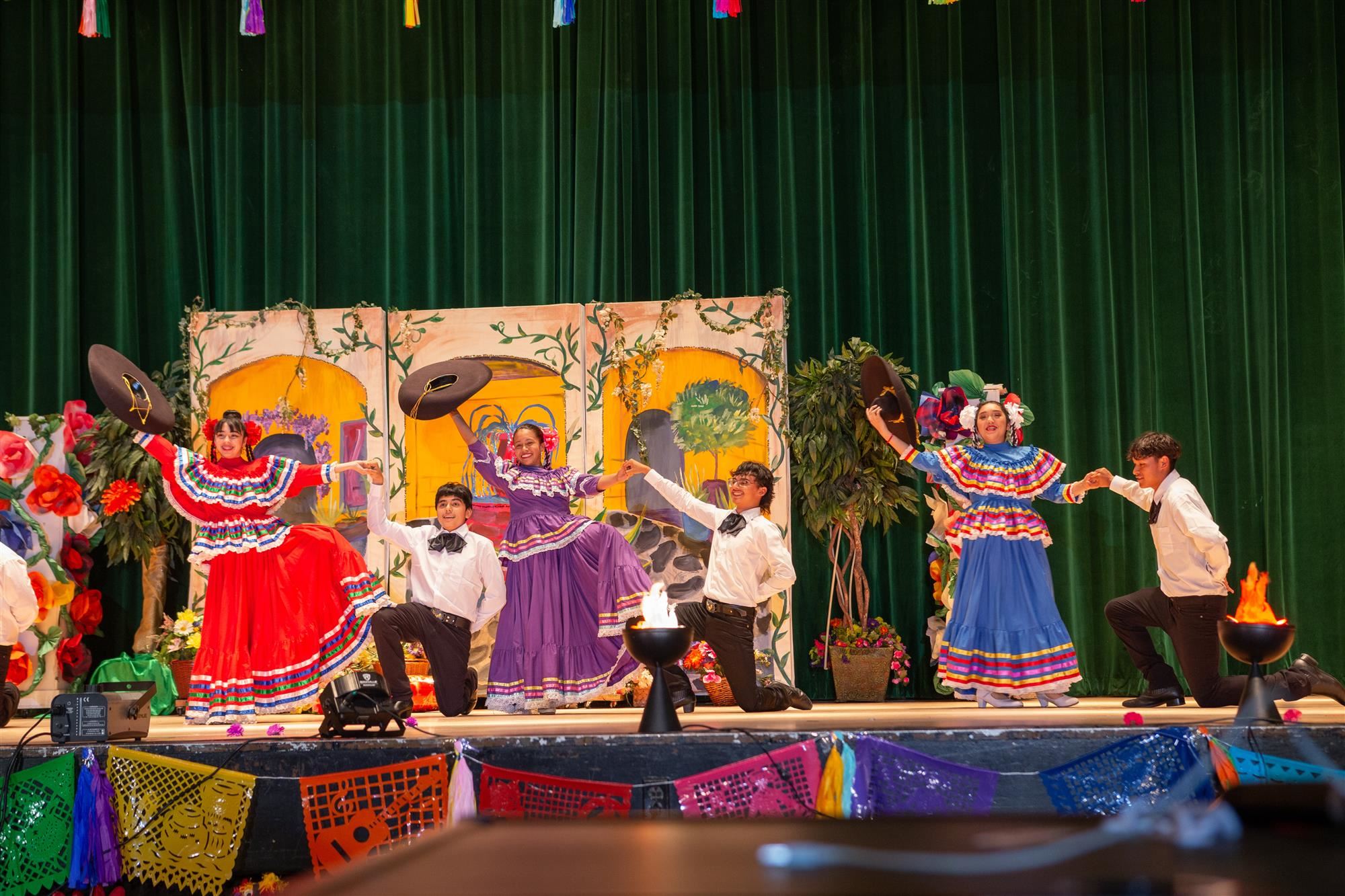 There were also musical performances and songs by Francisco Gonzalez, Julio Escobar, Celia Maldonado, David Perez, Gisselle Zambrano, and Adrian Flores.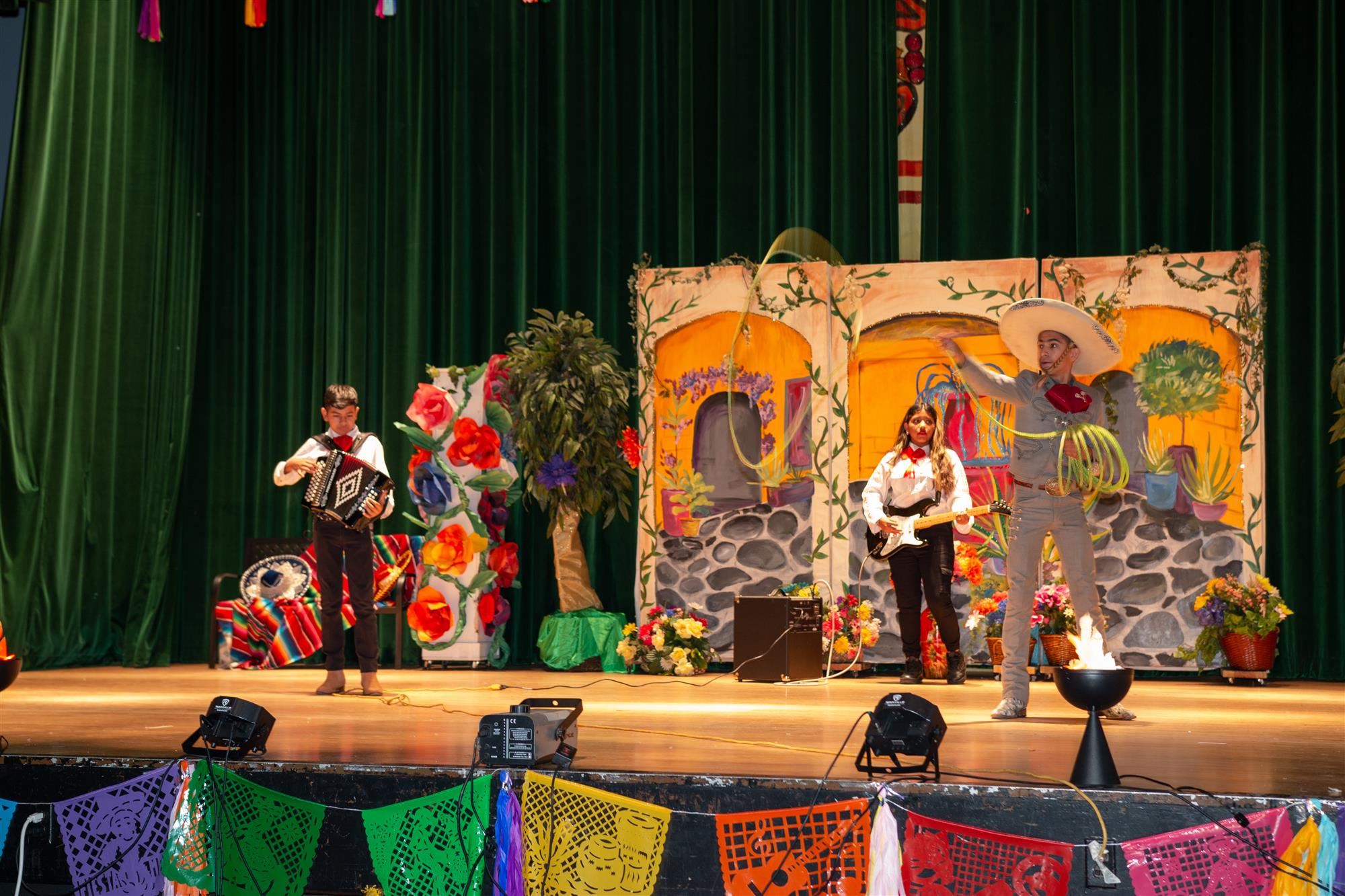 We had a faculty song and dance, featuring Mrs. Amanda Vasquez-Monita singing "Esos Hombres". Our Cinco Choir, directed by Ms. Mancillas, had a special dedication honoring Vicente Fernandez, "El Rey", our "viejitos" delighted everyone with their antics, and our larger-than-life masks amazed everyone. The grand finale included our huge masks dancing along the aisles, joined by the rest of the dancers, as confetti rained on our audience.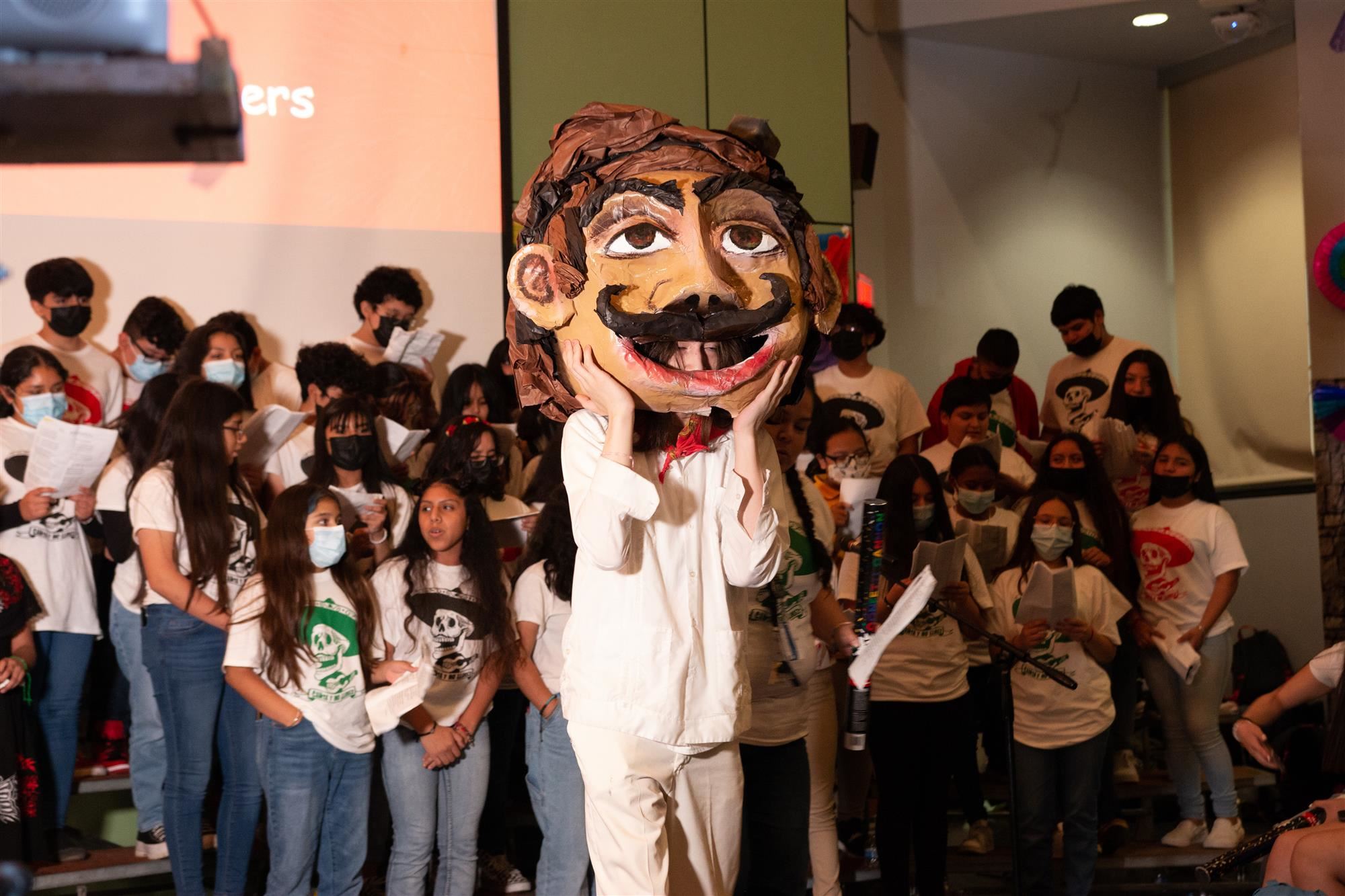 A program of this quality requires a lot of effort as well as the talent and dedication of many people. Many thanks to all the performers and all the helpers who decorated the auditorium and organized the costumes and props. Thank you to the teachers who performed, and to those who helped with the dances, especially Mr. Luviano. Thank you to Ms. Rodarte and Ms. Ledesma, who took care of so many details preparing the show. Thank you to our wonderful Principal, Mr. Knittle, for his unwavering support. And a very special thank you to our Program Coordinator, Dr. Mary Velasquez, whose labor of love this is!
Please click 2022 Cinco de Mayo Program to see the program and all its participants. Please click Cinco de Mayo Cover to see the winning design for the 2022 Cinco de Mayo Program. The winning artwork was designed by Elizabeth Cresenciano.
Enjoy the pictures below! See you next year!