Return to Headlines
Theater Team Wins Alternate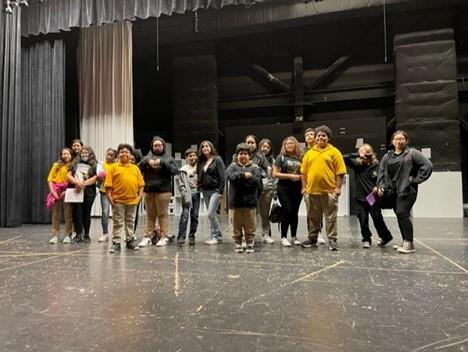 BURBANK'S THEATER TEAM
Dear Burbank family,
This year, Burbank's Theater Team performed Michelle Palermo's play "LADIES IN WAITING" at the U.I.L. Theater Competition which was held at Pershing Middle School. We started our practices the first week of school and we rehearsed every Monday and Wednesday, sometimes on Saturdays too. On one of those Saturdays, we had a clinic with a professional actor on our stage, and this helped us get to the next level.
After all those hours and hours of practice, we had a great UIL Rehearsal at Pershing MS the Friday before the competition. Our amazing tech crew was able to figure out a completely unknown system of lighting and sound at Pershing Auditorium. Mr. Luviano was also there to help (thank you Mr. Luviano!!!). After this successful run of the show, we went to McDonald's for lunch and had a great time there.
And then came Saturday, November 5th ! We were in the UIL Contest at Pershing the whole day! I would like to thank the many parents who came to help us, see our show, and enjoy the performances of the other competitors. It was wonderful to have them with us!
Many of our cast and crew got medals. FLOR ARZATE and PAULINA BATTISTA earned best actors medals. ISABELLA SANCHEZ got an award for Tech Crew. We saw three shows after our performance and we won a plaque for ALTERNATE, which means we do not go to the next level of the Contest, but it still acknowledges our successful performance. We are already talking about our show for next Fall's UIL.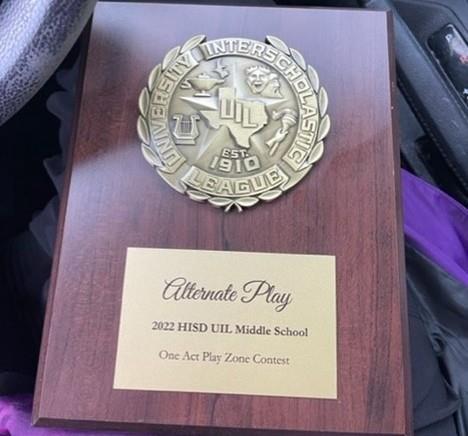 These young actors and crew now have an important experience for next year's contest when we go for a win! Every contest is a valuable learning experience and the memory of a lifetime.
Go THEATER TEAM!
Dr. Loreta Kovacic
Theater Teacher and Sponsor
If you would like to learn more about our Eagle Theater troupe, please go to our Choir and Musical Theater page!