Return to Headlines
Dual Language Benchmark Running Records
WHY DUAL LANGUAGE BENCHMARK RUNNING RECORDS?
As our district strives to develop bi-literate students, our goal is to integrate a holistic approach to measuring bilingualism, which embraces fluency in both languages. This holistic methodology is aligned to current dual language research that acknowledges the role of transfer theory and bidirectional transfer (students accessing content learned in both languages and using it to function cognitively). Thus, district administrators, dual language principals, and teachers should consider each child's academic progress in a holistic manner. To this end, the benchmarks for achievement for running records have been adjusted for students in dual language classrooms. Teachers who teach dual language should use the following charts to predict and track student achievement.
WHAT IS DL BRR?
OnTrack will allow campuses to digitally capture dual-language students' performance in both languages taking into consideration the biliteracy trajectories. Campuses will identify more accurately student needs and allow them to adjust and target their instructional strategies for their Dual Language students in both English and Spanish. As we transition to OnTrack this year and establish solid systems and procedures to record and analyze Running Records Data, we realized during the MOY window that the metrics for the Biliteracy Trajectory for Dual Language Running Records (see charts above) had not been finalized in the platform.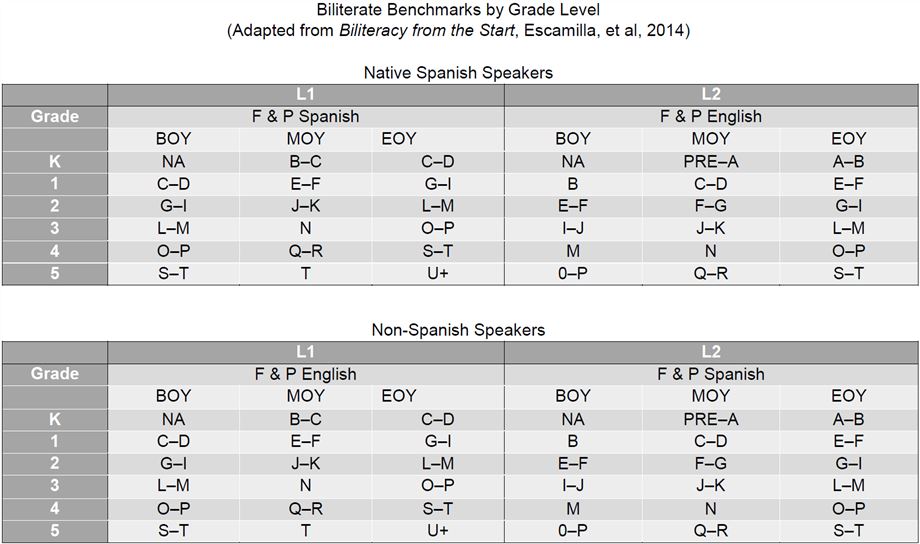 PDF: Dual Language Assessment Chart by Grade
PDF: Performance Tasks DPA Benchmark Running Record
DOC : Dual Language Running Record FAQ
WHAT WILL BE REQUIRED AND WHEN?
We ask that all Dual Language campuses enter their BOY Running Records results using the BOY DL BRR Assessments since the platform now will generate data that reflects if the student needs more development, is meeting expectations, or has an advanced development according to the DL Metrics-Biliteracy Trajectory.
While we understand that this may be a new process that we are getting used to, we believe that teachers and administrators will feel encouraged when seeing reports that more accurately reflect their students' English and Spanish literacy development.
| | | | |
| --- | --- | --- | --- |
| Assessment | BOY | MOY | EOY |
| Benchmark Running Records | Aug. 29 – Sept. 23 | Jan. 17 – Feb.17 | May 1 - 26 |

USEFUL TECHNICAL INFORMATION:
OnTrack Platform Process - Informational website: https://www.houstonisd.org/runningrecords
Who will appear on Dual Language BRR rosters?: Dual Language Campuses will have 4 unique BRR assessments per class, English and Spanish for ELLs (HISD Connect LEP Codes: YO & YT) as well as English and Spanish for Non-ELLs (HISD Connect LEP Codes: NT). Campuses will have to access 4 assessments and 4 unique reports. Only students LEP coded in HISD Connect with these codes will appear on rosters for Dual Language BRR entry. If a students LEP data is updated, contact Student Assessment to update the roster in OnTrack to include them.
It is very important that all of your DL Students are coded correctly as they will come up under your teachers rosters, according to the LEP Status / Program Placement coding in HISD Connect.
Students that are ELs should be coded YT or YO
English Native speakers should be coded NTs.
Students who met exit criteria and are monitored students should too be coded under dual: M1YT or M1YO, M2YT or M2YO, M3YT or M3YO and/or M4YT or M4YO.
If students are not coded properly, teachers will be unable to see them.
Please refer your teachers to use the task card below to ensure they enter their data appropriately.
| | |
| --- | --- |
| | |
| | |
| | |
| | |
| | |
WHO DO I CONTACT FOR QUESTIONS AND SUPPORT?