Bottled Water Distribution
As most of Houston remains under a boil water notice, Mayor Turner and The City of Houston have teamed up with Astros players, the Astros Foundation, and Brothers Produce to distribute bottled water to Houstonians without drinking water.
When: Sunday, February 21
Distribution begins at 2 p.m.
Where: Butler Stadium
13755 South Main Street
The City of Houston has hosted a daily mass bottled water distribution site since Friday, February 19. Please contact your district council member's office for the most updated information on bottled water distribution sites. Find your council member here: http://www.houstontx.gov/council/.
Boil Water Notice Issued for City of Houston Until Further Notice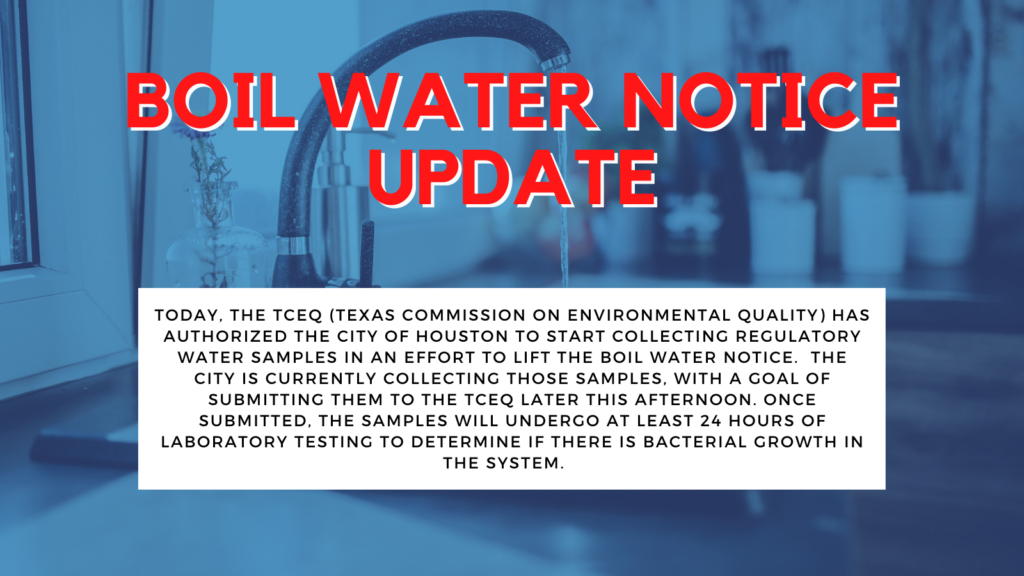 A boil water notice is in effect for the entire City of Houston until further notice.
Today, Saturday, Feb. 20, 2021, the TCEQ (Texas Commission on Environmental Quality) has authorized the City of Houston to start collecting regulatory water samples in an effort to lift the boil water notice. The city is currently collecting those samples, with a goal of submitting them to the TCEQ later this afternoon.
Once submitted, the samples will undergo at least 24 hours of laboratory testing to determine if there is bacterial growth in the system.
In the meantime, Houstonians should still boil drinking water. Residents should consult with their provider or Municipal Utility District (MUD) to see if they are impacted.
Check with your local provider or MUD to see if you are impacted. Individuals who are without power and unable to boil water are advised to use bottled water for consumption.
Frequently Asked Questions: http://bit.ly/3av2yl7
During a boil water advisory, food service establishments operations shall cease unless they can comply with the guidance available at the this link: http://bit.ly/HHDWaterBoil.
Report Broken Pipes or Water Mains | Track Home Repairs
Broken pipes or water mains in your neighborhood? Contact the City of Houston online or via the 311 app so Houston Public Works can isolate the leak.
3-1-1 is experiencing extremely high call volumes and high wait times. Skip the wait and submit service requests online or on the app!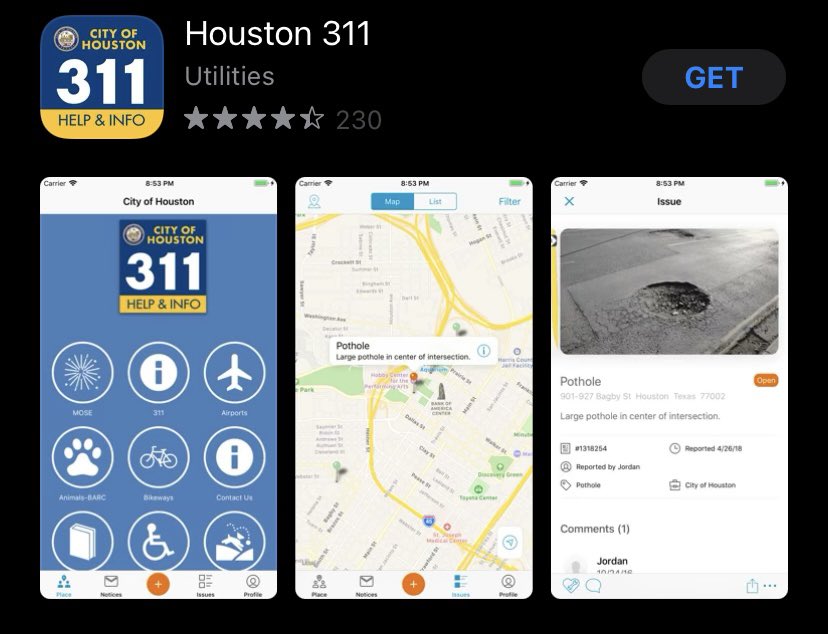 Home Repairs and Recovery
As residents begin to assess and repair any damages to their homes, we encourage residents to keep a record and take pictures of all property damage in the event reimbursement is available.
As residents, plumbers and other contractors begin to assess damage and make repairs to area homes and businesses, keep safe digging in mind. Contact 8-1-1 to have utility lines marked. Contact 8-1-1 before you dig to keep everyone safe.
https://call811.com/Before-You-Dig
Beware of Scams: We are hearing of scammers targeting Texas storm survivors. Beware of those contacting you unsolicited claiming to be from FEMA asking for your Social Security Number, bank account, or other sensitive information.
Also, no federal, state, or local disaster assistance entity will call you and offer assistance, but then ask you for money. Be wary of anyone reaching out to you. Monitor the news and local government emergency management notifications for assistance opportunities.
Utility Conservation
Water
Once temperatures rise above freezing and power is restored, these are the best ways to thaw frozen water pipes:
Open cabinet doors to circulate heat
Use hair dryers, heat lamps or portable space heaters
DO NOT USE open flames and/or propane torches (fire hazard)
Continue to conserve water after pipes have thawed. Remember: a boil water notice is in effect until further notice.
Energy
Houstonians among with all of Texas are experiencing power outages. Houston OEM is urging everyone to conserve as much energy as possible.
Conserve energy by:
Turn off and unplug non-essential lights and appliances; and avoid using large appliances (e.g. ovens, washing machines, etc.).
Turn down thermostats to 68 degrees or lower
Open blinds and shades to take advantage of the sun's natural heat during the day
Close shades and blinds at night to reduce the amount of heat lost through windows.
We urge all residents to conserve resources such as electricity and water.
Safely Use Space Heaters
Heating devices cause more than 100 fires in the City of Houston each year, resulting in numerous injuries and possible death. Citizens should always keep in mind that: Space Heaters Need Space!
The Houston Fire Department recommends the following safety tips when using supplemental heating sources:
Make sure you have a working smoke alarm.
Never leave children unattended in a room with a space heater – Children knock over space heaters, especially if they are placed on top of wobbly tables or stools and near where the children play. Children may also stick paper or toys in the grates of the space heaters especially gas space heaters. The city had two reported fires in 2004 caused by children playing with space heaters.
Keep all combustible materials, including yourself, at least three feet from the heater.
Open face heaters should have a screen.
Provide ventilation to prevent carbon monoxide poisoning.
Electric Heaters Tips
Never overload outlets or breakers.
Don't use extension cords for the heater. If the cord is hot to the touch, turn off the heater and unplug it!
Electric heaters permanently installed in the wall or ceiling should have lint and dust removed regularly. Lint and dust will burn!
For additional information on safely using space heaters, visit houstonfire.org.
Avoid Carbon Monoxide Poisoning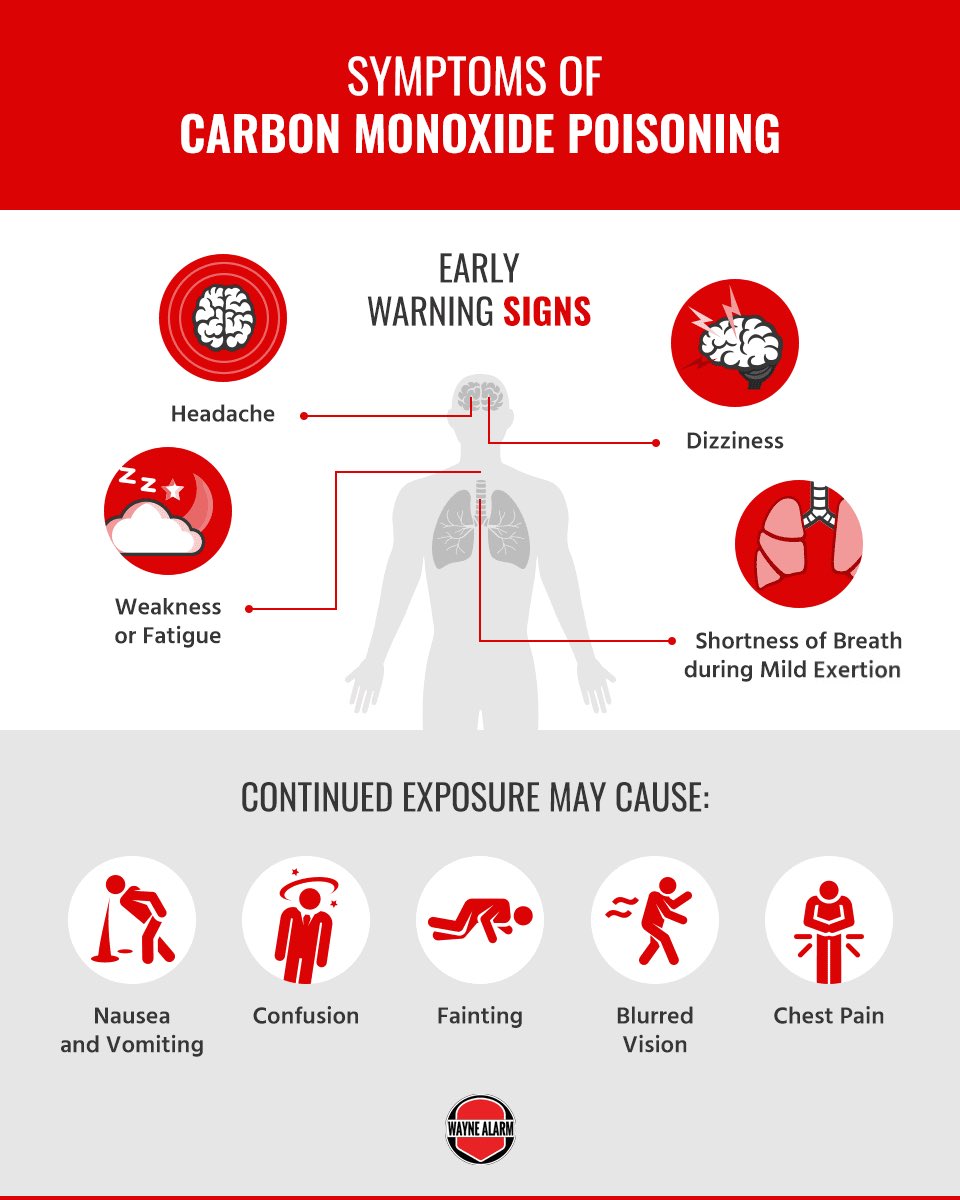 Carbon monoxide (CO) is an odorless, colorless gas that kills without warning. It claims the lives of hundreds of people every year and makes thousands more ill. Many household items including gas- and oil-burning furnaces, portable generators, and charcoal grills produce this poison gas. Following these important steps can keep your family safe.
CO Detectors
Install battery-operated or battery back-up CO detectors near every sleeping area in your home.
Check CO detectors regularly to be sure they are functioning properly.
Oil & Gas Furnaces
Have your furnace inspected every year.
Portable Generators
Never use a generator inside your home or garage, even if doors and
windows are open.
Only use generators outside, more than 20 feet away from your home, doors, and windows.
Visit CDC's website for more information on Carbon Monoxide.
City Updates
BARC

BARC expects an influx of pets needing help in the next coming days due to the winter storm. You can make a difference during these challenging times by fostering a shelter pet in need! Sign up to become a BARC foster on our website - https://www.houstontx.gov/barc/foster_a_pet.html. If you are already an approved BARC Foster email BARCFoster@houstontx.gov to get started!
Due to conditions caused by the cold weather, BARC also needs additional blankets and pet bedding for shelter pets! We can use new or gently used blankets, towels, and pet beds. Donations can be dropped off through our back entrance located at 2700 Evella St from 9am - 5pm. Can't make the drive? You can donate from the comfort of your home via our Amazon Wish List.

METRO

METRO resumed additional services Friday, Feb. 19, 2021. As the routes resume service, customers should prepare for possible delays and detours due to road conditions. All local routes will operate according to their regular schedules. More at

http://

ridemetro.org

.

Houston Municipal Courts
Mayor's Office for People with Disabilities

The Mayor's Office for People with Disabilities is partnering with Crowd Source Rescue to deliver bottled water to people with disabilities who don't have access to reliable transportation. We want to make sure that no one gets left behind, especially the most vulnerable populations. You can sign up for delivery here: crowdsourcerescue.org/freeze. Call 3-1-1 if you don't have Internet access and/or need additional assistance completing the form.

Houston Health Department

Many Houston Health Department-affiliated COVID-19 testing sites are resuming normal operations following weather-related closures.
The following sites resume normal operations on Saturday, February 20, 2021:

Aramco Services Company,
Southwest Multi-Service Center,
METRO Addicks Park & Ride,
Multicultural Center,
Sagemont Community Center,
Denver Harbor Multi-Service Center,
PlazAmericas,
UMMC West Tidwell, and
HCC Southeast,

The Minute Maid Park testing site resumes normal operations on Sunday, February 21, 2021.

Parks and Recreation Department

Cullen Park – All restrooms are closed through Monday, Feb. 22, 2021.
Cullen Park Phase I & II are open.
Cullen Park Phase IV is closed through Monday, Feb. 22, 2021
Gus Wortham Park Golf Course Opens Saturday, Feb. 20, 2021.
Hermann Park Golf Course Opens Saturday, Feb. 20, 2021.

Solid Waste Management Department

Thursday's garbage routes will be collected today, Saturday, Feb. 20, 2021.
Friday's garbage routes will be collected on Sunday, February 21, 2021.
We ask all residents to be patient as we recover from this week's severe winter storm. Please leave your (black) garbage containers at the curb and they will be serviced.
Stay Updated
For the latest forecast from the National Weather Service, visit weather.gov/houston and follow them on social media, @NWSHouston.
Sign up for emergency notifications via AlertHouston: Alerthouston.org
Download a Disaster Preparedness Guide (available in six languages) and make a plan today: http://bit.ly/2NmO8IZ
For information on roadway conditions, visit houstontranstar.org or follow the Texas Department of Transportation (TxDOT) on Twitter @TxDOTHouston.
---
¿Hay tuberías o líneas de agua rotas en su vecindario? Póngase en contacto con la línea de información 311 o use la aplicación 311 para que Houston Public Works (Obras Publicas) pueda aislar la fuga.
3-1-1 está experimentando volúmenes de llamadas extremadamente altos y largos tiempos de espera. ¡Evité esperas y envié solicitudes de servicio sólo por la aplicación!
Reparación del Hogar y Recuperación
Mantenga un archivo y tome fotos de todos los daños a la propiedad en caso de que un reembolso esté disponible.
Cuidado con las estafas: Tenga cuidado con personas desconocidas que se pongan en contacto con usted sin solicitarlos y digan que supuestamente ser trabajadores con FEMA y le pidan su número de Seguro Social, cuenta bancaria o cualquier otra información confidencial.
Póngase en contacto con la oficina de su concejal para obtener la información más actualizada sobre los sitios de distribución de agua embotellada. Encuentre a su concejal aquí: http://www.houstontx.gov/council/.
Durante un Aviso de Hervir el Agua, los establecimientos de alimentos como los restaurantes deben cerrar a menos que puedan cumplir con los reglamento disponibles en este enlace: http://bit.ly/HHDWaterBoil.
El alcalde de Houston, Sylvester Turner, anuncia una Declaración de Emergencia ante desastres en respuesta al clima invernal extremo. La declaración entra en vigencia de inmediato para proteger y preservar la seguridad pública.
Conservación de Servicios Públicos
Agua
Los sistemas de agua y aguas residuales de Houston están experimentando baja presión. Para ayudar a mantener la presión del agua en el sistema durante este evento de clima invernal, use agua solo para tareas esenciales y ayude a conservar el agua al no hacer funcionar lavadoras, lavavajillas o regar al aire libre.
Una vez que las temperaturas se elevan por encima del punto de congelación y se restablece la energía, estas son las mejores formas de descongelar las tuberías de agua congeladas:
Abra las puertas del gabinete para hacer circular el calor
Utilice secadores de pelo, lámparas de calor o calefactores portátiles.
NO USE llamas abiertas y / o antorchas de propano (peligro de incendio)
Continúe conservando agua después de que las tuberías se hayan descongelado.
Energía
Los residentes de Houston entre todos los de Texas están experimentando cortes de energía. Houston OEM está instando a todos a conservar la mayor cantidad de energía posible.
Conserve energía al:
Apague y desenchufe las luces y los electrodomésticos que no sean esenciales; y evite el uso de electrodomésticos grandes (por ejemplo, hornos, lavadoras, etc.).
Baje los termostatos a 68 grados o menos
Abre persianas y cortinas para aprovechar el calor natural del sol durante el día.
Cierre las cortinas y las persianas durante la noche para reducir la cantidad de calor que se pierde a través de las ventanas.
Instamos a todos los residentes a conservar recursos como la electricidad y el agua.
Utilice Calentadores En Forma Segura
Los calentadores causan más de 100 incendios en la ciudad de Houston cada año, lo que resulta en numerosas lesiones y posibles muertes. Los residentes siempre deben tener en cuenta que: ¡Los calentadores necesitan espacio!
El Departamento de Bomberos de Houston recomienda los siguientes consejos de seguridad al usar fuentes de calentadores suplementarios:
Asegúrese de tener una alarma de humo que funcione.
Nunca deje a los niños desatendidos en una habitación con un calentador de ambiente - los niños golpean los calentadores, especialmente si se colocan encima de mesas que se tambalean y cerca de donde juegan los niños. Los niños también pueden pegar papel o juguetes en las rejillas de los calentadores, especialmente el los calentadores de gas. La ciudad tuvo dos incendios reportados en 2004 causados ​​por niños que jugaban con calentadores.
Mantenga todos los materiales combustibles, incluido usted mismo, al menos a tres pies del calentador.
Los calentadores de cara abierta deben tener una pantalla.
Tenga ventilación para prevenir el envenenamiento por monóxido de carbono.
Consejos para Calentadores Eléctricos
Nunca sobrecargue los tomacorrientes o los disyuntores.
No use cables de extensión para el calentador. Si el cable está caliente al tacto, apague el calentador y desconéctelo.
Los calentadores eléctricos instalados permanentemente en la pared o el techo deben eliminarse las pelusas y el polvo con regularidad. ¡La pelusa y el polvo se queman!
Para obtener información adicional sobre el uso seguro de calefactores portátiles, visite houstonfire.org.
Intoxicación por Monóxido de Carbono (CO)
El monóxido de carbono (CO) es un gas inodoro e incoloro que produce la muerte sin hacer ninguna advertencia. Cientos de personas mueren y miles se enferman todos los años a causa de este gas. Muchos artefactos de uso doméstico, como calentadores de aceite y gas, generadores portátiles y parrillas a carbón, producen este gas tóxico. Siga estos pasos importantes para proteger la seguridad de su familia.
Detectores de CO
Instale detectores de CO que funcionen con pilas cerca de cada dormitorio de su hogar.
Revise los detectores de CO regularmente para asegurarse de que funcionen correctamente.
Calentadores de Aceite y Gas
Haga re visar su calentador todos los años.
Generadores Portáles
Nunca use un generador dentro de su casa o garaje, aunque las puertas y ventanas estén abiertas.
Solo use generadores afuera, a más de 20 pies (6.10 metros) de la casa, de las puertas y ventanas.
Visite la página del CDC para más información.
Actualizaciones de la Ciudad
Administración y Asuntos Regulatorios (ARA por sus siglas en ingles)

3-1-1 sigue funcionando. Las personas sin vivienda o que dependen médicamente de la electricidad pueden llamar al 3-1-1 para recibir asistencia.
Houston BARC está cerrado temporalmente debido al clima.

METRO

METRO reanudó los servicios adicionales el viernes 19 de febrero de 2021. A medida que las rutas reanudan el servicio, los clientes deben prepararse para posibles retrasos y desvíos debido a las condiciones de las carreteras. Todas las rutas locales operarán de acuerdo con sus horarios regulares. Infórmese en: http://ridemetro.org.

Oficina del Alcalde para Personas con Discapacidades

La Oficina del Alcalde para Personas con Discapacidades se está asociando con Crowd Source Rescue para entregar agua embotellada a personas con discapacidades que no tienen acceso a un transporte confiable. Queremos asegurarnos de que se atiendan las necesidades de todos, especialmente las poblaciones más vulnerables. Puede inscribirse para la entrega aquí: crowdsourcerescue.org/freeze.
Llame al 3-1-1 si no tiene acceso al Internet y/o necesita ayuda adicional para llenar el formulario.

Departamento de Salud de Houston

Muchos sitios de pruebas covid-19 afiliados al Departamento de Salud de Houston están reanudando las operaciones normales después de los cierres relacionados con el clima.
Los siguientes sitios reanudan sus operaciones normales el sábado 20 de febrero de 2021:

Aramco Services Company,
Southwest Multi-Service Center,
METRO Addicks Park & Ride,
Multicultural Center,
Sagemont Community Center,
Denver Harbor Multi-Service Center,
PlazAmericas,
UMMC West Tidwell, and
HCC Southeast.

El sitio de pruebas en Minute Maid Park reanudara las operaciones normales el domingo 21 de febrero de 2021.

Departamento de Parques y Recreación

Cullen Park – Todos los baños están cerrados hasta el lunes 22 de febrero de 2021.
Cullen Park Fase I y II están abiertas.
Cullen Park Fase IV está cerrada hasta el lunes 22 de febrero de 2021.
Gus Wortham Park Golf Course abre el sábado 20 de febrero de 2021.
Hermann Park Golf Course abre el sábado 20 de febrero de 2021.

Departamento de Residuos Sólidos (Basura)

Las rutas de basura del jueves se recogerán hoy, sábado 20 de febrero de 2021.
Las rutas de basura del viernes se recogerán el domingo 21 de febrero de 2021.
Pedimos a todos los residentes que tengan paciencia mientras nos recuperamos de la severa tormenta invernal de esta semana. Por favor, deje sus contenedores de basura (negros) en la acera y serán atendidos.
Mantente Informado
Para obtener el pronóstico más reciente del Servicio Meteorológico Nacional, visite weather.gov/houston y sígalos en las redes sociales, @NWSHouston.
Regístrese para recibir notificaciones de emergencia a través de AlertHouston: Alerthouston.org
Descargue una Guía de preparación para desastres (disponible en seis idiomas) y haga un plan hoy mismo: http://bit.ly/2NmO8IZ
Para obtener información sobre las condiciones de las carreteras, visite houstontranstar.org o siga al Departamento de Transporte de Texas (TxDOT) en Twitter @TxDOTHouston.