Return to Headlines
Mandarin Immersion Magnet School Recognized for Design Excellence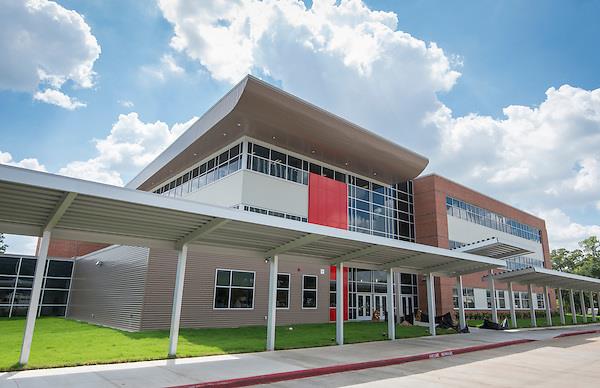 Two schools in the Houston Independent School District's 2012 Bond Program received national recognition this month in Learning by Design magazine's 2017 Awards of Excellence.
Mandarin Immersion Magnet School, which opened in August 2016, and Sterling Aviation High School, which opened in January 2017, were among just 17 schools and university facilities from across the country to receive the top designations from the magazine.
Mandarin Immersion Magnet School, designed by PBK Architects, was awarded a Citation of Excellence and recognized for its cultural transparency and integration, as well as its utilization of Chinese cultural elements throughout the campus.
Judges noted that the school's architectural elements are reminiscent of Asian forms, while the flexibility of the building allows for enhanced community engagement, reinforcing the concept of the global village.
Sterling Aviation High School, designed by Stantec Architecture, received an Honorable Mention for its outstanding building design, which features an aviation-themed campus with spaces that are diverse and student-focused.
The innovative high school features a 7,100-square-foot airplane hangar, which serves as the centerpiece of both the school and its focus on aviation science. It also offers 21st-century learning spaces with a collegiate feel. The unique design allows the campus to differentiate itself from other high schools, while maintaining a flexible, functional space that can adapt to changing educational needs.
"I'm extremely proud of the schools we're building," said Dan Bankhead, HISD general manager of facilities design. "They are all designed to create an excellent learning environment for students, and both MIMS and Sterling are great examples of our innovative, student-focused approach."
Learning by Design Awards of Excellence recognize state-of-the-art education facility designs from across North America. Honorees are selected based on successful implementation of several components, including innovation, 21st-century learning, community needs, interior and functional design, and sustainability.
A panel of education, facility design, and architecture professionals from across the country review and score entries to determine award recipients.
Mandarin Immersion Magnet School and Sterling Aviation High School are among 40 schools that are being rebuilt or renovated as part of HISD's 2012 Bond Program. About half of all 2012 Bond projects are now complete and open to students. Once all work is finished, HISD will boast of one of the most modern portfolios of urban high schools in the country.
Follow @Build_HISD on Twitter for the latest updates on the 2012 Bond Program and school construction across the district.