Return to Headlines
MIMS dedicates Dragon & Phoenix Spark Park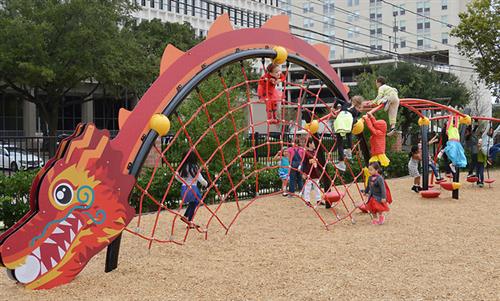 The Dragon and Phoenix Spark Park is the first in a series of Spark park dedications around the city. November is going to be a busy month, with 10 new parks opening in five school districts – three more of which are in HISD.During Spark Week (Nov. 13-17), eight more parks will be dedicated, including parks at HISD's Hartsfield Elementary, Clifton Middle, and Mark Twain Elementary.
The MIMS Spark Park is a cooperative venture of HISD and MIMS parents and students. Included in the culturally immersive play environment are a dragon, a phoenix, swings, a large turning point, a fence featuring the Chinese zodiac, and a concrete seating wall featuring student-made tiles on which students wrote their name in Chinese calligraphy.
MIMS Principal Chaolin Chang welcomed parents and officials to the celebration and introduced a performance by the Suzuki violin students under the direction of Lara Gaona. Next students performed "Little Grass," a popular Chinese dance with colorful scarves directed by Annpei Chen. And finally, the impressive MIMS Dragon Dance Team entertained attendees.
The speakers' program got underway with remarks from state Rep. Gene Wu, Vice Mayor Pro-Tem Jerry Davis, and HISD Trustee Anne Sung. "Thank you all so much," Sung said. "We are so blessed to be able to work with our parents and community partners to make this beautiful Spark park possible." Under Spark Executive Director Kathleen Ownby, the organization has worked with 200 schools and established 125 parks in the Greater Houston Metropolitan Area. "I'm so happy to see children playing here today, knowing that now they will be playing here every day," Ownby said.
The MIMS Spark Park was designed by Lauren Griffith of Lauren Griffith & Associates and built by Kraftsman with play equipment custom-made by Landscape Structures. The cost of the project was more than $300,000. The MIMS PTO contributed $10,000 toward the park construction. Other funding included contributions from the City of Houston, Tanglewood Property Group, Confucius Institute, and many more.

View on HISD News Blog